Recently I came up with a few Batman v Superman outfits and remembered I never posted about one of my favorite outfit challenges!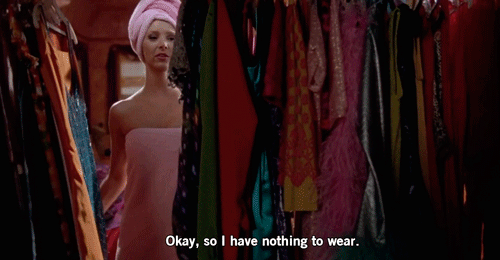 You've heard of the IGGPPC mentioned on this site before. Many of us are members. Lydia actually was the Troop Croft counselor for their camp event. Check them out if you're interested in a fun community for fans of all things, oh, and pen pals (IGGPPC stands for International Geek Girl Pen Pals Club)!
This summer, one of their IGGPPCamp activities was a fun cosplay challenge. You could only use what you had at home or borrowed from a friend. Here is the prompt for their Closet Cosplay Challenge!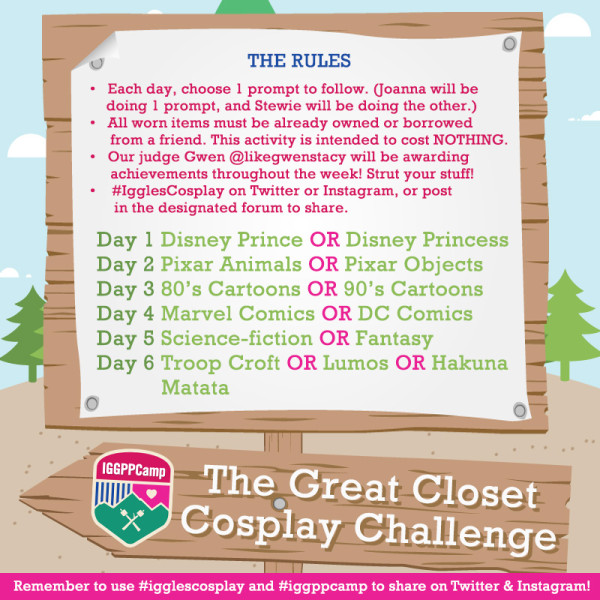 Here's what I did!
Disney Prince: Prince Eric from The Little Mermaid Outfit
The accessories here were my favorite part. As you'll see, that blue skirt was super useful for many of my subtle cosplays.
The fish necklace is something my mother bought for me years ago. She is into horoscopes and loves to by me fish related things because I am a Pisces. (Since you asked, my birthday is March 11th. Don't forget it.) The turtle necklace was a birthday gift from Estee. She did some true friend homework and looked at my Etsy wishlists for my style, remembered I loved
The turtle necklace was a birthday gift from Estee. She did some true friend homework and looked at my Etsy wishlists for my style, remembered I loved turtles, and got me this great gift. One of my favorite pieces of jewelry.
The starfish studs I got from Sea World years ago. Love studs.
Disney Princess: Belle from Beauty and the Beast Outfit
This was a pretty indulgent attempt. I'm a huge ham and I love to sing. This part of Part of Your World is my fav, so I have to put it together.
Funny story. That rose I am posed with is real. I got this cool present for Hannukah one year at a Bryant Park Holiday Shop event. You can place one flower in the little pod and it stands upright. What I didn't realize is that once the water is gone, which is quick because it is very shallow, the flower dries perfectly.
I've had this rose for three years now. Perfect Belle accessory.
As you can see I'm wearing the same shirt and skirt as the Prince Eric outfit, plus suspenders to kind of make it look like overalls. Suspenders are the best cosplay accessory. They are also super fun in general. I love wearing 'em.
The blue bow in my hair is a birthday gift I got from Etsy years ago, that is actually Doctor Who themed.
Pixar Animal: Buzz Lightyear from Toy Story Outfit*
I just realized I didn't follow directions. This is a copy cat of what I wore to Disney recently. Not my best attempt, but a least I got the color schemed down. And probably the hammy, self-important attitude. :P
80s or 90s Cartoons: Oblina from Ahh Real Monsters Outfit
Who remembers this show? It was so gross but fun at the same time! (And a different kind of gross than Ren and Stimpy and Rocko's Modern Life, right?)
I wish I had some googly eyes large enough for this photo, so instead I opted for those random dryer balls?
That scarf is there to represent her large mouth. This outfit could work for a pirate or Parisian type subtle cosplay!
Marvel or DC Comics: Old School Cyclops from X-Men Outfit
X-Men is my jam! I loved Xavier and co since I was tiny. I wanted to try Cyclops because I thought I could finagle that contraption on his chest with my suspenders. I missed one step though by keeping the bottom separated instead of together.
The rose I used as the red part is actually a headband I wrapped around the suspenders.
Yep, that's the trusty blue skirt!
The super cute Xavier and Magneto is available in our store. New and improved designs are on my to do list. :)
Science Fiction or Fantasy: Clara Oswin Oswald from Doctor Who Outfit
Who doesn't love Clara's style? I'm obsessed with her outfits. This was fun to try because of the whisk. Not gonna lie, I got a kick out of that.
I didn't have a red dress, so I put together a red skirt and a cardigan. That belt is actually my mother's (I stole all her elastic belts, they are too fun). Adipose came from one of my first NYCCs as did my Portal Turret.
Yep I know the adipose wasn't in Clara's time, but same universe ya know? And the Portal turret was just for fun. :)
Troop Outfit: I missed this one.
I had so much fun doing this, I actually did most of the outfits in one day. I was on a roll!! Now I actively look out for pieces that would work well for subtle cosplaying.
What is Your Favorite
Character to Cosplay??
SHARE: