Podcast: Play in new window | Download (Duration: 52:41 — 24.1MB)
We had so much fun with our Into the Woods-inspired meal, we decided to try a Dystopian themed meal too. We used links that had recipes for meals from the Hunger Games, Divergent, and other Dystopian related fandoms to come up with this meal.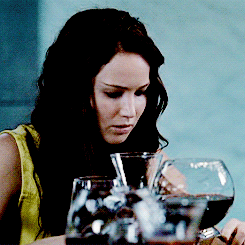 Hunger Games Inspired Meal: Carrot Soup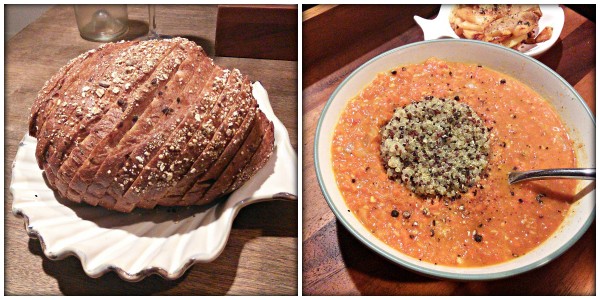 Lindsey
Expertise: Experienced
Ease: Easy
Customizing: I used Huffington Post's list of Hunger Games recipes to inspire my meal. Katniss had carrot soup when she is at the Capital for the first time. I haven't made carrot soup in years so the choice was simple. I did, however, want to try a vegan version since we avoid keeping cream or milk in the house. Green Kitchen Stories's Carrot Soup recipe to helped me along.
Instead of Turmeric I used 3 TBSP curry spice (I like lots of flavor). Instead of 14 oz of tomatoes I used a 28 oz can and instead of water I threw in one can of vegetable stock. Additionally I added 1/4 cup shredded UNSWEETENED coconut flakes. 
To make this more of a complete meal I paired it with quinoa, potatoes, and "Peta's" 7 Grain Bread that was actually 5 Grain Bread since I bought it from the bakery.
Repeatability: Definitely!!! My husband said this was one of his new favorite meals. 
Hunger Games Inspired Meal: Shortbread Cookies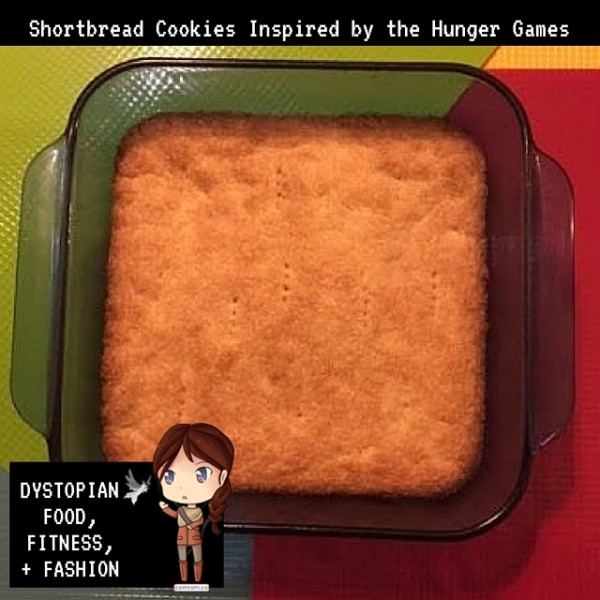 Estee
Expertise: Intermediate
Ease: Extremely easy
Customizing: One of the links suggested shortbread to represent the cookies Peeta's father gave to Katniss. I couldn't get the link in the article to load so I used one from allrecipes.
The only customization I really did was add a bit of vanilla and I had to judge the timing on my own because the recipe only says "Bake until pale golden brown on the edges." I started with 20 minutes and checked every few minutes to be sure they didn't get too dark.
Overall it was roughly 30-35 minutes.
Repeatability: Absolutely! I have these ingredients in my home all of the time so this recipe could be dangerous to my diet. LOL
Hunger Games Inspired Meal: Orange Chicken
Lydia
Expertise: Intermediate
Ease: Easy
Customizing: I forgot that they had a sort of orange chicken dish in the Hunger Games, until I clicked through a few food ideas to make. I have an incredible orange chicken recipe that I absolutely love so I wanted to use that instead of the suggested one from a link. Though, that one didn't have any sort of real recipe lined out.
Repeatability: Definitely. This is one of my favorites and the perfect meal when you want something sweet yet spicy.
Hunger Games Inspired Meal: Orange Cauliflower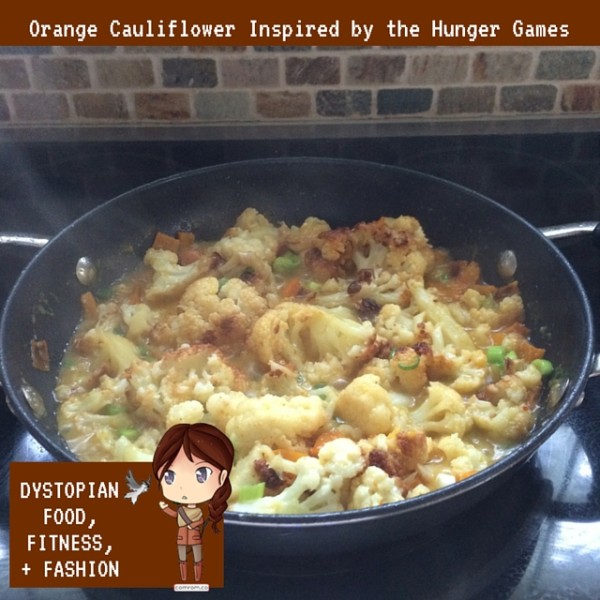 Hadas
Expertise: Noob
Ease: Like Lydia, I chose the Orange Chicken recipe. I really wanted to make the rabbit plum stew, but rabbit isn't kosher and I'm not good at cooking beef. My mother advised me NOT to use chicken. Next time I'll figure out a good alternative!
I made a bad choice frying instead of baking, but otherwise my orange cauliflower was super easy! Fun fact: I made this in April and burned myself from the oil that attacked me. I still have that scar today in October.
Customizing: Instead of chicken I did cauliflower because I don't know how to cook chicken well.
Repeatability: Yes! I made it a few times already :)
WHAT WOULD YOU MAKE FOR A DYSTOPIAN INSPIRED MEAL?
Here are some sites for inspiration: Hunger Games Recipes from the Huffington Post and ABC. Divergent Recipes from Being Geek Chic and YouTube.
SHARE: