Podcast: Play in new window | Download (10.6MB)
To fit in with the New Mexico theme we decided to really challenge ourselves by making a New Mexico themed outfit. We used POLYVORE to create these looks.
Vanessa:
As it is SciFi month, I chose one of my favorite books Contact by the extraordinary Dr. Carl Sagan (one of my favorite authors) as inspiration for my New Mexico themed fashion. When Dr. Arroway first hears the message from the Vega system, she is in Socorro County, New Mexico at the Very Large Array (VLA). This is the outfit I imagine a radio astronomer would wear while listening for alien signals. I made sure to add a bit of New Mexico's famous turquoise jewelry and my trademark TOMS to give it the final touch.
Charee:
This New Mexico flag subtle cosplay is very simple but very cute! I wanted to add some alien earrings to represent where I am from (Roswell!) but Polyvore was being weird with their template and would only let me add 4 pictures. I have lived in New Mexico for all the years of my life, except for 2 years, so this would be a great look to show some pride for my state!
Hadas: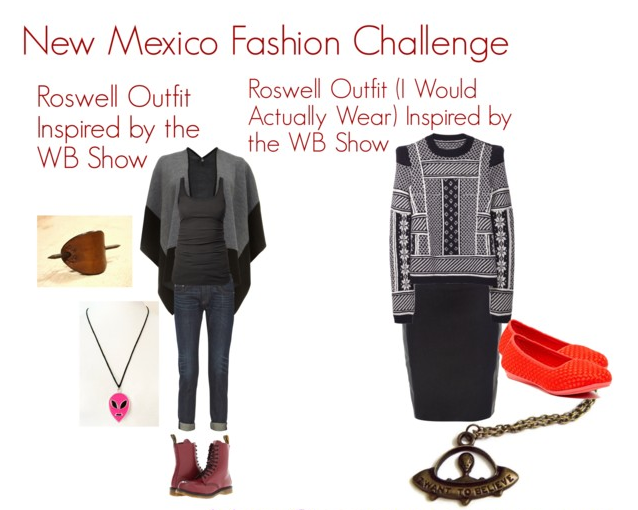 I am oving Roswell right now and the more Native American inspired fashion they try to incorporate on the show. The crew in NM seem really chill and their clothes are very laid back, many sweater/jean combos. I don't wear jeans so the next best thing is a denim pencil skirt (don't laugh!). I found a fair isle-type patterned sweater that is structured (read: just my style) and red shoes to match the color scheme. My favorite addition is the I Want to Believe alien necklace. The Roswell crew, specifically Maria, owned alien memorabilia because Maria's mom made and sold them, so this just seemed like a natural fit.
How would you create a New Mexico inspired look?

SHARE: