Hello, Fit Clubbers!
So here's how I did with the Push Up Challenge!
This challenge was pretty easy for me!  The push ups didn't start getting difficult for me until I got to about 14 on Day 18.  That's when I had to start resorting to "girl" pushups with my knees on the ground for a few days.  But overall, this challenge went well and built up my confidence to start doing push ups again :)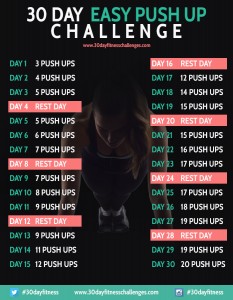 Post in the comments how this challenge was for you!
And get ready for the next challenge coming very soon!
SHARE: