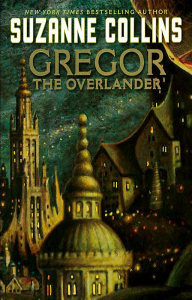 When the Underland Chronicles start, Gregor follows his sister Boots into the grate in his laundry room, he falls into an Underground world filled with talking creatures. He soon learns that his father, who disappeared a couple years ago, also landed in this strange land but has been taken hostage by vicious rats. If this wasn't enough, Gregor learns that he may just be the warrior that the Underground people have been waiting centuries for.
The greatest strength in this book is the complex layers of the people that Collins introduces. Luxa is a prime example of a character who starts out exceedingly unlikable but as we slowly peel away the layers of her personality we get to know and like her. Gregor is equally likable as the unlikely hero who grows into his destiny and learns some hard lessons from his experiences.
It is always strange to love one series by an author and then pick up another without knowing what to expect. I loved The Hunger Games series, so when I saw that Suzanne Collins had written a previous book series I knew I had to get it. The two series will naturally draw comparisons, even if the two are not quite the same genres. Gregor is a middle grade fantasy series, while The Hunger Games was young adult dystopia, so they were bound to be different, but this series really demonstrated the range of Collins' skill. Like with The Hunger Games, Collins does not shy away from the tough moments like betrayal and death. We feel Gregor's pain as strongly as we ever felt Katniss's. Where the young adult series is full of sorrow and angst, the Underland Chronicles is balanced with light humor and comic relief to make for a less intense but no less enjoyable series.

SHARE: