John Green doesn't underestimate teens so his characters tend to say some insightful things. Here are my 10 favorite quotes from TFIOS and some things I learned from them.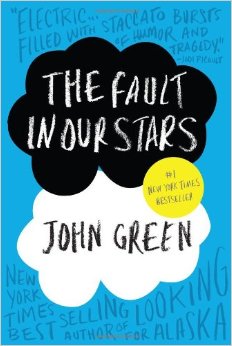 Welcome to To Be Honest, HBT where I use my favorite quotes from a recent book I've read, categorize them, and explain my thoughts on the book as a whole. HBT are my initials, in case ya didn't know.  I tend to find meaning in everything, but I don't really force it. Most reviews are spoiler free and provide a warning prior to a spoiler-filled section. This time I'm discussing The Fault in Our Stars by  John Green.
---
#BeenThere:
Full grown adult in a church basement in the 137th nicest city in America, divorced, addicted to video games, mostly friendless, eking out a meager living by exploiting his cancertastic past, slowly working his way toward a master's degree that will not improve his career prospects, waiting, as we all do, for the sword of Damocles to give him the relief that he escaped lo those many years ago when cancer took both of his nuts but spared what only the most generous soul would call his life. Page 4.
-Gamer stereotype alert! Also, that master's degree line killed me because it's mostly true. Can I pretend my Master's in English literature is being used in this post?
I had ridiculously fat chipmunked cheeks, a side effect of treatment. Page 9.
-Very accurate description of any post-surgery in my opinion. #DoneThat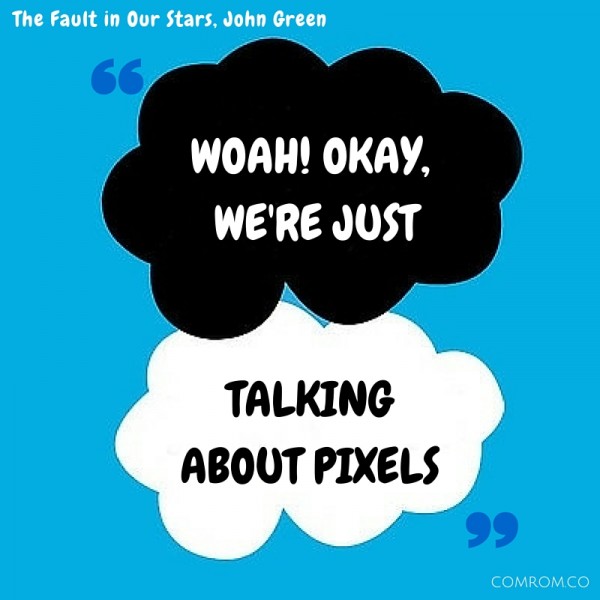 Woah okay we're just talking about pixels. Page 59.
-Hahaha. As any game lover knows, pixels are #seriousbusiness. John Green is playing with us here.
---
Just Funny:
Did that boy give it to you? By it, do you mean herpes? Page 39.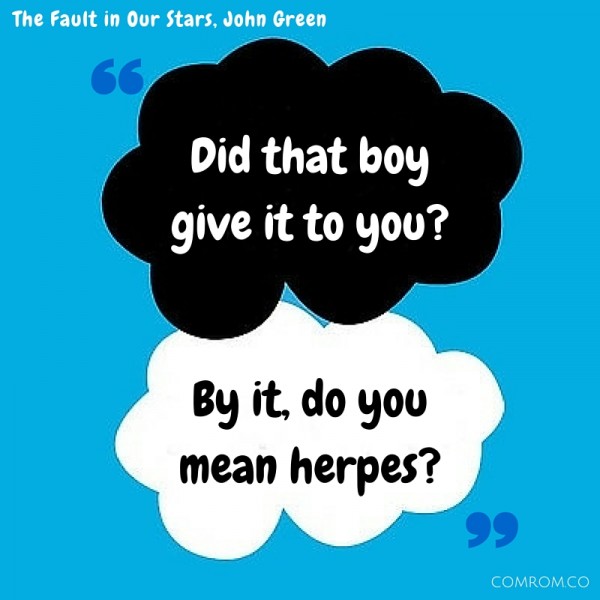 My beautiful family and Gus. Page 221.
-Poor Gus. Just a tagalong.
---
Learned Something:
Page 54: decompensating
-Did anyone know this was a word? "In medicine, decompensation is the functional deterioration of a previously working structure or system." (wikipedia)
Page 64: sobriquet
-"A person's nickname"
Page 212: Maslow's Hierarchy of Needs
-See this.
---
#Truth: 

That's the thing about pain it demands to be felt. Page 63.
-I think this is just a nice line. Poetic. Pain is annoying, it tantrums until you shut it up or learn to ignore it.
---
John Green-ness:
Can't make my daughter's dreams come true. Page 80.
-This and page 138 make me cry. Her dad is so loving and supportive and I feel sorry for him and for her for having to worry about his well-being. On 299 he tries to figure out who they like on ANTM (America's Next Top Model). It is so sweet.
…contemporaneity specializes in the kind of battles wherein no one loses anything of any value, except arguably their lives. Page 150.
-Only John Green could put these words in the mouths of his teenagers. Like we discussed once on a podcast episode, Green creates highly intelligent and self-aware teenagers. My opinion was that maybe he creates these types of youngsters so that others reading his books will rise to the occasion.
I just shook my head.
"What?" he asked.
"Your obsession with, like, dying for something or leaving behind some great sign of your heroism or whatever. It's just weird."
"Everyone wants to lead an extraordinary life."
"Not everyone," I said, unable to disguise my annoyance.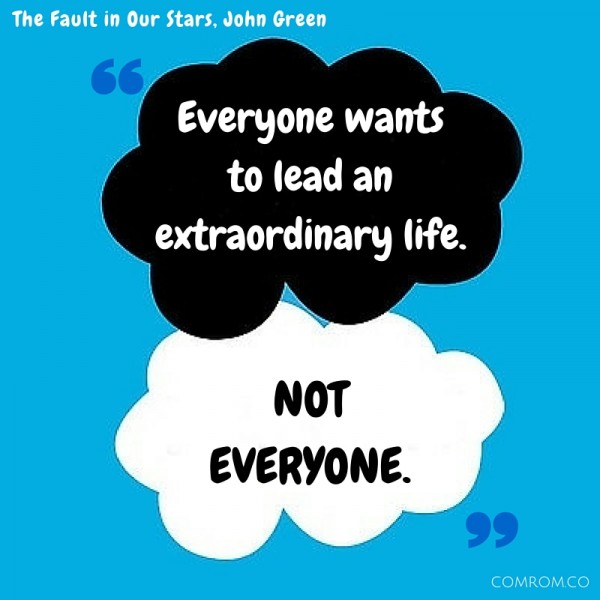 "Are you mad?"
"It's just," I said, and then couldn't finish my sentence. "Just," I said again. Between us flickered the candle. "It's really mean of you to say that the only lives that matter are the ones that are lived for something or die for something. That's a really mean thing to say to me."
I felt like a little kid for some reason, and I took a bite of dessert to make it appear like it was not that big of a deal to me. "Sorry," he said. "I didn't mean it like that. I was just thinking about myself."
"Yeah, you were," I said. Page 169.
-Hazel is upset that Augustus thinks everyone wants to live an extraordinary life and she does not. This reminds me of our discussion on Walter Mitty. I'm the type of person that takes life very seriously and am very afraid of not making any impact.
An extraordinary life is a delusion of grandeur, but it's the highest goal. Hazel is more grounded, like Walter Mitty was, and this is a lesson I need to learn.
It's stupid, but I kept thinking I owed it to her—to Anne Frank, I mean—because she was dead and I wasn't, because she had stayed quiet and kept the blinds drawn and done everything right and still died, and so I should go up the steps and see the rest of the world she'd lived in those years before the Gestapo came. Page 199.
This reminds me of Cedric Diggory's death. He did all the right things yet evil killed him because evil sucks.
---
SPOILERS: TBH, you should have already known this :) but just in case!
[Show][Hide]
"The only person I really wanted to talk to about
Augustus Waters's death was Augustus Waters."
---
Final Thoughts:
I've read one John Green book before, Will Grayson, Will Grayson and mainly because I was wandering around the library and remembered that a podcast I enjoyed by the original team on Mugglecast spoke about it and interviewed both authors.
When a coworker was offering The Fault in Our Stars I grabbed it excited to read a story that captivated so many hearts and made people very excited to cry in a movie theater. The story was beautiful and refreshing.
I liked that the characters were intelligent. I found it shocking, but realistic when Van Houten tells her all about her entitled nature and her contradictory feelings about her cancer. It was a bold move by Green.
I usually make things about myself and cry for characters out of catharsis, but I truly truly cried at the end of this novel for Augustus and for Hazel and it was such a pure feeling. TBH, it was a strange experience and maybe one I need more of. -HBT
SHARE: