Bake these cookies and your taste buds will be in love…SERIOUSLY.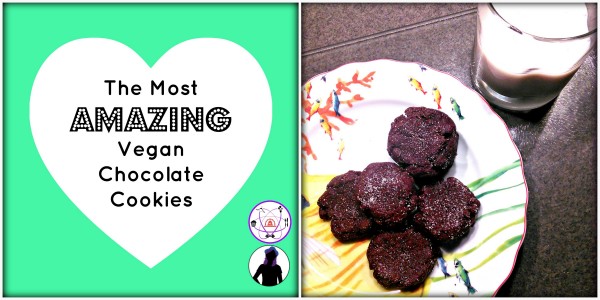 I found this recipe around 5 years ago. I had just started dating my now husband and I was fascinated by the amazing things his vegan brother ate. At some point I started to bake vegan goodies and came across this recipe. I can not claim it as my own and I wish I remembered where I got it so I could place credit where it is deserved. But my husband has seriously been begging me to make these again as it has been too long. Man they make my taste buds salivate, they do not last long in our house.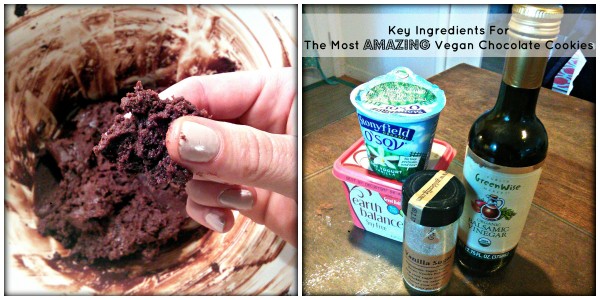 The Most AMAZING Vegan Chocolate Cookies
INGREDIENTS:
1 c. flour
1/2 tsp baking soda
1/8 tsp salt
5 tbsp Earth Balance butter (vegan)
1/2 c. + 1 tbsp unsweetened Cocoa powder
2/3 c. sugar
1/3 c. brown sugar
1/3 c. soy yogurt
1 tsp. vanilla
1 tbsp balsamic vinegar
vanilla sugar (found in spice/dessert section)
DIRECTIONS:
1. Oven @ 350 F
2. Mix flour, baking soda, and salt together
3. Mix cocoa with sugars in a separate bowl
4. Melt butter and add to the sugar/cocoa mixture then add yogurt, vanilla, and balsamic vinegar
5. Mix in flour mixture (The dough will be nice and thick.
6. Drop small spoonfuls of dough onto a cookie sheet and sprinkle with vanilla sugar
7. Bake for 9 minutes
IMPORTANT: The cookies will be very VERY soft so they need to sit for a few minutes (10 give or take) before you take them off the cookie sheet.)
Enjoy and share.
For a healthy BodySpiritBrain, you need some indulgences :)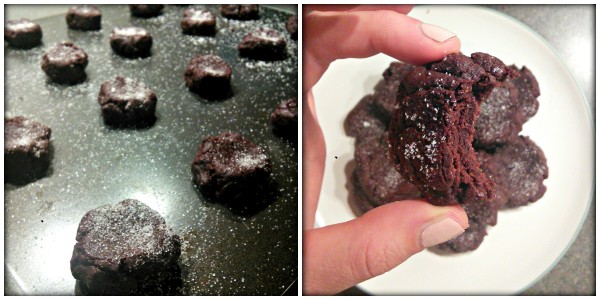 CUSTOMIZATION:
* Butter: You don't have to use vegan butter if remaining vegan is not a concern.
* Yogurt: Again, you can use regular yogurt. Play around with your flavors though. I once used raspberry soy-yogurt and it was pretty good. It gives the cookie an extra subtle flavor.
* Vanilla Sugar: If you can not find the Vanilla Sugar, regular sugar will work or you can make your own!
What Are YOUR
Favorite Cookies? 
SHARE: