Planning a summer barbecue can sound like a good idea- but it usually ends up in a frazzled host, overcooked burgers, and soggy salads. It's no fun standing in the heat telling your guests they'll have to wait a few more minutes for a hot dog. With advance planning, an organized prep table, and some help from the supermarket, a BBQ can be a cinch to pull off. As an added bonus, plastic plates and cutlery are totally acceptable, so there is zero cleanup! Fire up the grill and make a shopping list for this summer barbecue how-to!
The tips below work well for a group of 5 or a party of 25. At a BBQ, everyone is looking for the classics, so there is no need to pull out the showstoppers. I've found that offering several popular items (with a twist!) is always better than tables and tables laden with tons of food. Just make sure you scale your quantities up or down, depending on how many guests are expected.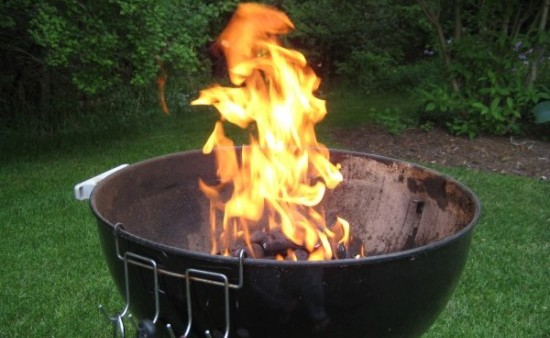 Make Your List
There's no reason you should have to do it all. Serving coleslaw? Buy it pre-shredded and bagged. Condiments? Buy them in squeeze bottles. Less mess, less cleanup, more people eating happily.
Plan your list according to how your supermarket is laid out. Go section by section, aisle by aisle. Take stock of your pantry before you go. No reason to send out you chief grillmaster to buy ketchup because you thought you had in the pantry.
Always pick up the buns last and put them in the child seat portion of the wagon. A burger on a nice, tender, fluffy bun is delicious. A burger on a smashed, flat, soggy bun is not. Have the cashier tie up the bag with your bread, and put it in the front seat of your car.
Plan The Menu
Soggy salads are out, hearty grains and crisp lettuces are in. Think cabbage, not arugula. Quinoa salad that'll stand up to anything should have a spot, and leave the mayo based pasta salad for another time.
At a BBQ, most of the guests are going to dive into the meat and entrée dishes, so have plenty of proteins ready to grill. My rule of thumb: one beef dish (burgers), one chicken dish (cutlets), one wow dish (sliced steak, lamb, or sausages) and one totally indulgent dish (hot dogs).
It's best to set up a separate buffet table outside, so your guests can easily help themselves. Keep a platter of each salad or side dish inside waiting to be brought out when the first is devoured. Set up covered platters by the grill to hold freshly grilled burgers, chicken, and hot dogs. The platters can be transferred to the main buffet, but hungry guests can also wander over to the grill and grab a freshly cooked burger.
Aim To Please
If you're serving lots of children, consider serving sliders. These mini burgers are quick to eat, and are more likely to be finished, rather than languish on the plate.
Kids like grab and go items, so break ears of corn in half, serve some side dishes in individual portions, and serve anything you can on a stick. Even the pickiest kid will eat chicken on a stick!
If the barbeque is going to be a blowout bash, consider hiring help. A professional is not necessary, but a high school student looking for cash can be hired to clear plates and cups, refill platters, and refresh drinks. A college or culinary student can man the grill so you, as the host, can mingle and entertain.
Ice, Ice, Baby
Think you bought enough ice? Think again, and go pick up another ten pounds. Ice melts quickly, and you wouldn't want your guests plucking a warm soda from a tub of drinks.
Fill buckets or a plastic kiddie pool with ice and nestle the drinks into the containers. Adding an inch or two of water to the bottom will keep the ice cold longer.
Make sure you have enough cubed or crushed ice to use to cool down glasses of drinks. Keep ice buckets filled with ice ready to go in your freezer.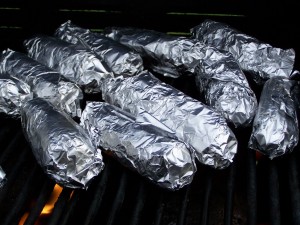 Make Friends With Foil
Burgers, hot dogs, and chicken on the grill need to be piping hot and fresh to be delicious, but grilled vegetables, corn on the cob, grilled potatoes, sautéed onions, and mushrooms can be delectable while warm. Grill these sides earlier, and leave the precious grill space for the main event.
For delicious, smoky flavored corn, wrap each cleaned ear in a piece of tin foil. Line them up and let the grill do the work.
Dry potatoes are no fun. Cube potatoes and onions and set aside in a large bowl. Using a half cup measuring cup, dump a portion into foil packets. Add a splash of olive oil, salt, pepper, and a hint of grill seasoning, seal and grill. Individual servings of tender potatoes are a step away.
Prep and grill vegetables tossed in a slick of olive oil earlier in the day. Zucchini, peppers, eggplant, carrots, Portobello mushrooms and scallions are all hits for the carnivores and herbivores alike. Once lightly charred, arrange on a platter and cover with a layer or two of foil.
Click to the next page to see my recipes for Successful BBQ Sides
SHARE: