Podcast: Play in new window | Download (35.9MB)
When Star Wars fashion is concerned nothing will top the iconic sex appeal Princess Leia's slave ensemble carries but when Queen Amidala hit the screen her amazing costumes give Leia a worthy challenge where fashion is concerned.
When I heard we were doing a Star Wars rewatch, I just had to write about the gorgeous gowns and styles our Queen/Senator wore.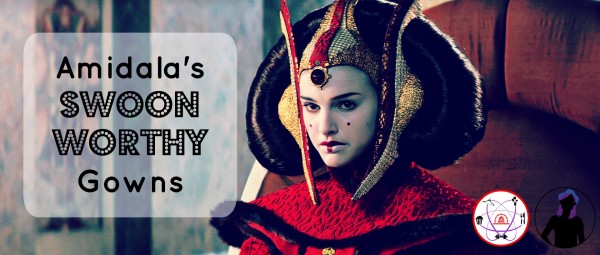 Queen Amidala arrives on the scene in Phantom Menace as an extremely young queen. Her costumes completely consume and cover her. She is 14 after all. When she is not presented as queen her garments are rather modest and plain. Her fashion greatly evolves when her character's role changes in Attack of the Clones. She is older, Senator rather than Queen, and (maybe not coincidentally) Anakin's love interest (well played Mr. Lucas). Padme' has some swoon-worthy gowns of note. My 3 favorite gowns are…..
1.) Padme's Tatooine Attire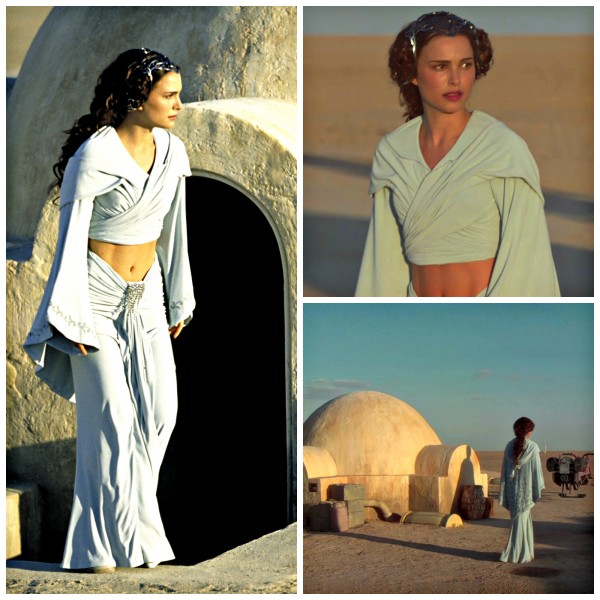 I am not generally a huge fan of the crop top trend that is popular right now. It really has to be pulled off perfectly to work. Padme would be able to rock that look flawlessly with the assistance of her rock hard abs. Amidala's blue Tatooine garment is simple yet romantic and looks pretty comfortable. This costume references Princess Jasmine in my opinion. She looks exotic and appropriately costumed in the desert of Tatooine.
2.) The Wedding Dress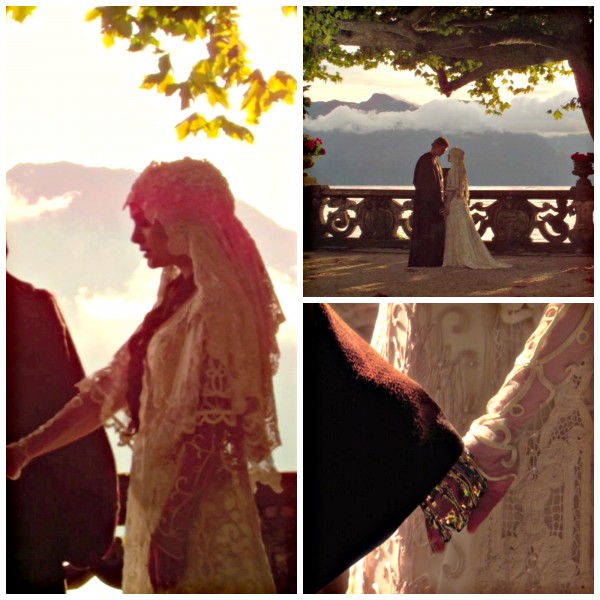 Honestly, what girl doesn't seem to get hooked in by a beautiful wedding dress. I must say, Padme's dress is breathtaking. It is modest in all the right ways. The intricate lace and beading make the rather traditional silhouette vintage and eye-catching. The Senator's long curly hair was loose down her back adding to the overwhelmingly romantic look. She was perfect. Her attire needed to be dramatic and romantic to add to the drama of her forbidden marriage to Anakin. This was achieved, for sure.
3.) Villa Gown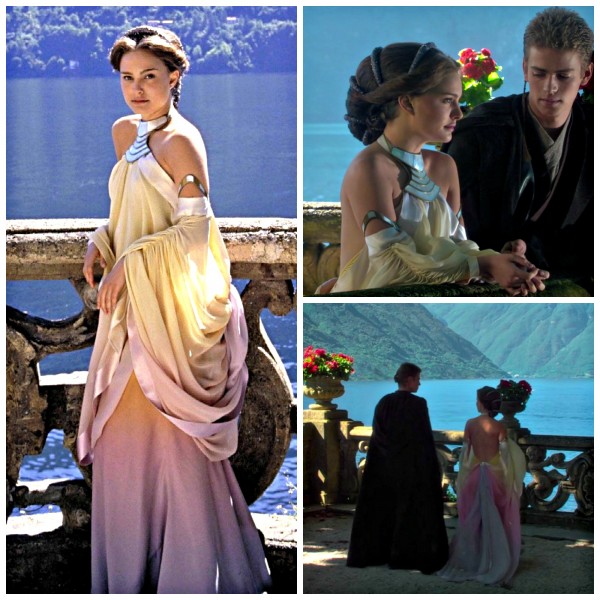 My all time FAVORITE dress worn by Padme' was her villa dress. The costume designers were geniuses for imagining up this breath-taking gown. Every element of this style compliments and combines with each other to make one swoon worthy look. The pastel ombre use of color helped achieve the whimsical feeling of this outfit. More saturated colors would not have achieved the same effect. Being backless adds an extreme sexy quality without going over the top. The lack of back is balanced out by the high neck and billowing, loose, and full skirt and partial sleeves that expose the shoulders. The last perfect touch is the use of arm cuffs and neck bib in place of jewelry. Genius. Kudos costume designers. You created the dress of my dreams. (Can't you see some inspiration for some of Khaleesi's earlier looks in this dress??)
The costume designers definitely brought their A game to the Star Wars prequels, especially Attack of the Clones. I am anxious to see what will have changed in terms of costume design in the new generation of movies.
What are your favorite Star Wars Fashions?
Image Source: http://starwarsscreencaps.com/
SHARE: