Hello, Fit Clubbers!
So here's how I did with the Splits Challenge!
Days 1 through 5 were pretty brutal. I was so sore in my thighs! This let me know for sure that I need to be stretching every day, especially after my workouts.
During the challenge, I got in a car accident with my roommates so I wasn't able to complete this challenge. I am okay, but my leg was injured and has taken a few weeks to completely heal. Even though I didn't finish the challenge, I still saw a difference in my flexibility. I wasn't able to bend over and touch my toes before and now I'm almost there! If I'm ever able to do the splits in the future, I'll post a pic!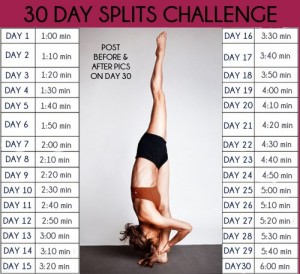 Post in the comments how this challenge was for you!
And get ready for the next challenge coming very soon!
SHARE: