While I love biting into a crisp apple, or tender roasted carrot, nothing beats a juicy peach, plump blueberries, or crisp snap peas. Summer fruits are my favorite, inexpensive, and bountiful in season. Bringing a piece of summer into the fall and winter is simple and cost effective with many summer fruit recipes. Canning and freezer jam is fun, but I prefer prepping the raw ingredients to use however the mood strikes.
Check local farm stands, pick your own farms, and supermarkets. When a crop is in full swing, take advantage! Picking your own is fun and a great summer activity, but so is taking advantage of a great deal. This week I bought 6 pints of blueberries for $6! Previously I've bought eggplants at 30 cents/lb, and corn for 10 cents/piece.
Prepping and storing takes some time and effort – but it's well worth it in the winter when apples and oranges get boring. The only requirements are sheet trays and lots of gallon size zip top freezer bags. Make sure to label everything with the item and the date. It's a great feeling opening the freezer and taking out a gallon of peak-picked blueberries!
Some of my favorites to prep are stone fruits, berries, melons, corn, snap peas, string beans, eggplants, and sweet onions.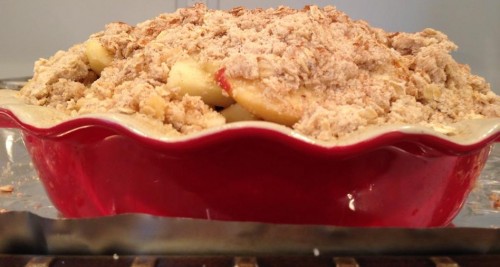 STONE FRUITS
Peaches, plums, nectarines, and apricots are all at their sweetest and juiciest in the summer. Take advantage and buy lots of just ripe fruit. To peel or not to peel is optional, and I prefer the textural difference of the peels.
To freeze:
To peel, drop whole fruit into simmering water for 20 seconds. Remove and place into an ice bath. When cool enough to handle, peel with a sharp paring knife. The peels will slide right off!
Slice into chunks or wedges (discarding pits) and lay in a single layer on sheet trays. Freeze until solid and transfer to zip top bags.
Favorite uses:
Smoothies, crisps and crumbles, sweet and spicy salsas
Recipe idea:
Custom Crisp
This fruit crisp is super simple to toss together and is a crowd pleaser. Use any combination of summer fruit, no need to defrost. It can be baked in a large ceramic pie dish or in individual ramekins. Use as much filling as you'd like, extra topping can be frozen raw and used as needed.
Topping:
1/2c white whole flour
1/4c sugar or coconut sugar
4 tb butter or solid coconut oil
1/2 tsp cinnamon
1/4 c chopped nuts
2 tb oil
Cut butter into small pieces.
Combine all ingredients except nuts and oil in a large bell. Crumble butter into dry ingredients until sandy in texture. Stir in nuts and oil.
Pile fruit into baking dish and top with pieces of crumble. Set on a baking sheet to catch spills. Bake at 350 until bubbling and topping is golden, about 45 minutes for a 9″ pie dish.
Click to page 2 to read about Berries and Melons!
SHARE: