Announcements have been made for which shows the networks have renewed and canceled from the 2013-2014 season. Some announcements seemed inevitable (The Michael J. Fox Show was officially canceled), while others were, if not unexpected, still disappointing.
Best Decisions:

Final season orders for Parenthood and Parks and Recreation–
Both of these shows are among my favorites and a large part of me never wants to see them end, but of course, that is not the reality. All shows come to an end, no matter how good (unless you're The Simpsons or Doctor Who), and the real question is whether or not they outstay their welcome. Final season orders are my favorite trend that we have been seeing more of over the last few years, because it allows the writers to plan for the end. No setting up for a potential next season, just the chance to lay it all out their with enough time to properly plan for it. I'm ready to see where the time jump in Parks and Recreation takes us and in learning what will happen with the Braverman clan (less interested in Amber's potential pregnancy and more curious about Julia and Joel's relationship). For me, neither of these shows have truly misstepped yet, and I am glad to have on more year with them.

Cancellation of Super Fun Night, Dads, Surviving Jack, and The Carrie Diaries–
20+ cancellations were made over the last week (not to mention the many more made over the course of the year) and though some were sad, others were silently begging to be put out of their misery. Comedies in particular had a tough new season, with no real major hit premiering and Super Fun Night, Dads, and Surviving Jack were among the worst. I could not get through the pilot of Dads, Surviving Jack was painful, and I kept watching Super Fun Night long after it was worth watching  if only to hope that somehow Rebel Wilson somehow managed to redeem it. Maybe she's better in movie doses than on the small screen? The Carrie Diaries was a questionable renewal the first time around and with so many better shows in contention, this cancellation was a no brainer.

Renewals of Nashville, Agents of S.H.I.E.L.D., The 100, and The Good Wife–
Despite a total gross-out moment that involved Hayden Panetierre's Juliette Barnes and Oliver Hudson's Jeff Fordham a couple episodes ago, Nashville's second season seems to have picked up steam, particularly in its second half. Gone are the annoying Teddy political stories, Scarlett is ostensibly leaving the music scene (and finally became a little interesting), Will's personal demons keep getting magnified, and Juliette's continues to struggle to regain her former star status. All these plot lines have converged for a solid season. Plus renewal for a third season all but guarantees renewals for a fourth. While I was not shocked to hear about Agents of S.H.I.E.L.D.'s renewal, it was something of a ratings disappointment and therefore not a sure bet. However, it has the big Marvel machine behind it and an explosive second half that will hopefully drive it through a stronger season two. The 100 was one of the CW's new series that could have gone either way, but of the network's newest crop of shows, this one was one of the best. While the premise doesn't make a ton of sense (more on that here), this Lord of the Flies meets the an apocalyptic Orange is the New Black has shown itself to be a strong, compelling series. As for The Good Wife, the series is critically acclaimed and reaching new creative highs, so although the ratings are only middling, CBS would have received a lot of complaining if this show had been canceled. (I consider The Good Wife one of the best series on TV right now.)
Worst Decisions:

Cancellation of Trophy Wife, Back in the Game, Suburgatory, The Crazy Ones, The Neighbors, and Enlisted–
The biggest casualty of the year were the comedies (6 on ABC, 4 on Fox, 4 on NBC, and 4 on CBS). While none of these are particularly surprising, each of them is a loss for television. Trophy Wife had a great cast but maybe suffered from a name that did not do the show justice. Back in the Game was never given a chance to really show its strengths, but I found myself enjoying it every week. Suburgatory was probably one of the most painful cancellations for me. For three seasons this show was continually funny and felt different than so many of the family comedies out there. It was hard to know when it was airing and never got the attention it deserved. The Crazy Ones had a rocky start but I started really enjoying the cast chemistry here. Enlisted was poorly treated by Fox and never had a shot, but the series itself was high quality and deserved better exposure. The Neighbors is a much-maligned series that turned out to be much funnier than I ever thought it could be. I would have been happy to see more of the Weavers and their alien neighbors' shenanigans. What will happen with Amber and Reggie?!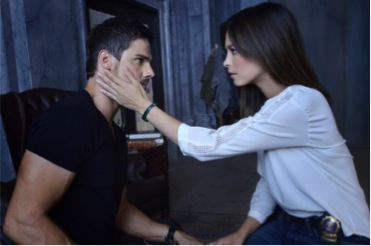 Renewal of Beauty and the Beast– 
I stopped watching this show half a season in, which was a big deal for me because I love fairy tale retellings and I rarely drop a show. But this series lost me. It was angsty, even for the CW, it was unoriginal in its story lines, and it was just plain boring. This was the biggest surprise renewal and though The Tomorrow People and Star-Crossed were nothing amazing, I would have preferred one of these series earn the renewal instead.
Sure, there are other series I would have liked to have more time with (Intelligence had finally found a good rhythm, but at least Red will be back on Once Upon a Time), but none of them were shocking cancellations given the low ratings. What do you think TV watchers? What series will you miss the most? Which ones are you glad to say goodbye to? And which ones are you dying for the next season of?
SHARE: