Hey there, Lucky! Get in shape with 7 moves for 7 books using our Harry Potter workout made exclusively for Potterweek!
SWISH AND FLEX!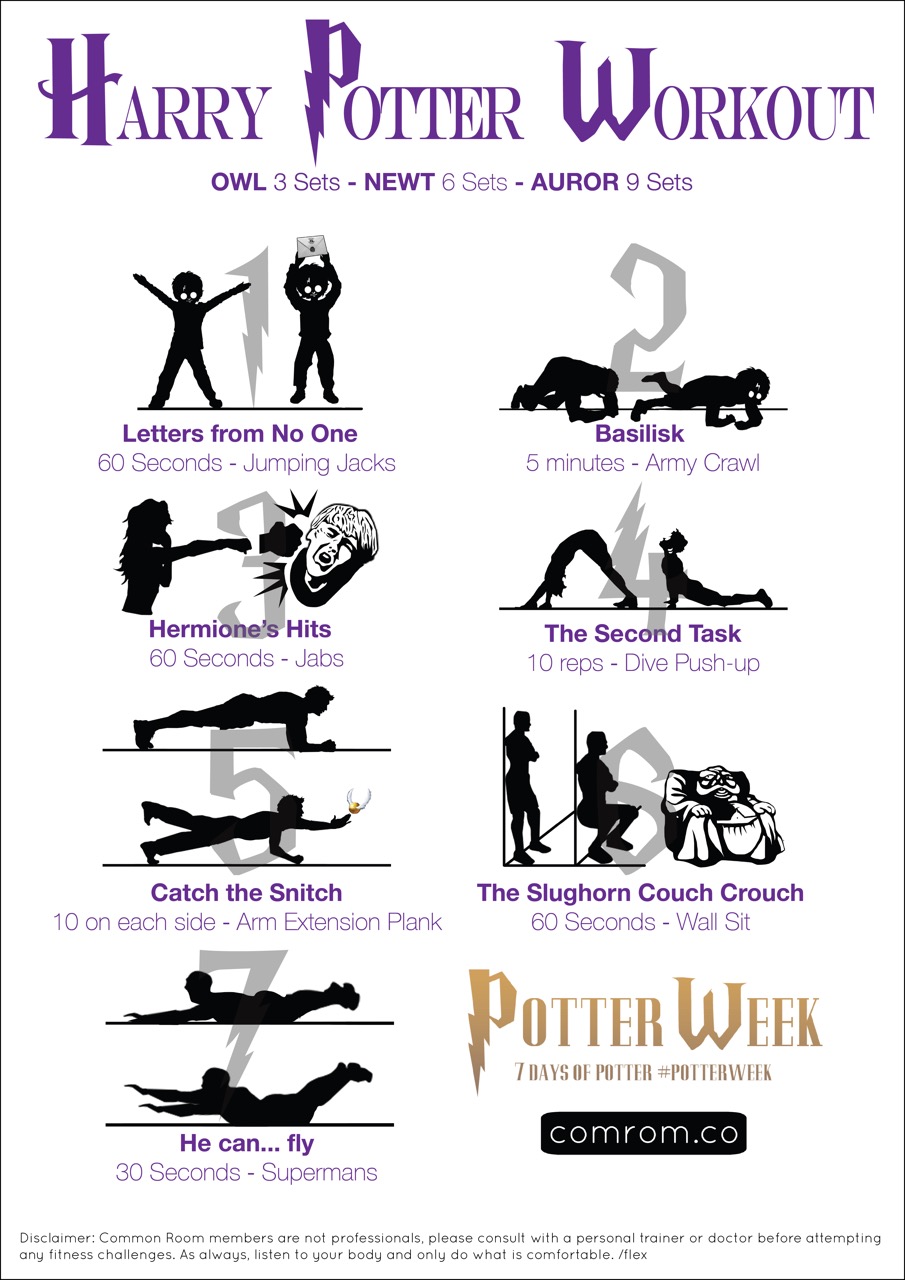 Thanks to Dov Smiley and Ali Lavoie for putting this together, as well as Lindsey and the CR team for coming up with the move ideas and names.
Here are two great additional options to get your Wizard and Witch hearts racing!
ESTEE
I loved reading this book, but using it in a different way is pretty fun and who doesn't like a two-for-one deal? Now if only I can figure out how to actually read it while I do the workout.
This workout isn't anything earth shattering but for someone like me that is pretty out of shape it does the trick. It's zero impact and can easily be done in a small space. My favorite part is the waist twists because it helps stretch my back muscles while working my core as well.
CHRISTINE
The trio could have run a marathon with the amount of running and sneaking around they did at Hogwarts. I wonder if that was the inspiration for the Hogwarts Running Club?! Either way, this group this not only hits on your fitness side but also your charity side. The organization hosts several virtual runs a year. People run or walk the amount of miles for each run on their own, at their own pace, and can even break them up in multiple sessions.
The point of the club is to get Potterheads moving, and donating to charity in the process. Each run has a designated charity that the club provides information on and raises money for. To add to the fun, each of the registered runners gets a Potter themed medal! I missed out on the last run because all of the spots filled, but I am definitely signing up for the next one!!
---
Run from the Dementors in style! (Though, as a huge Potternerd I have to mention *takes breath* running-might-not-be-super-helpful-and-as-Hermione-is-on-these-leggings-you'll-be-out-of-luck-because-even-though-she's-the-brightest-witch-of-her-age-expecto-patronum-is-the-only-spell-she-has-trouble-with. *exhales*)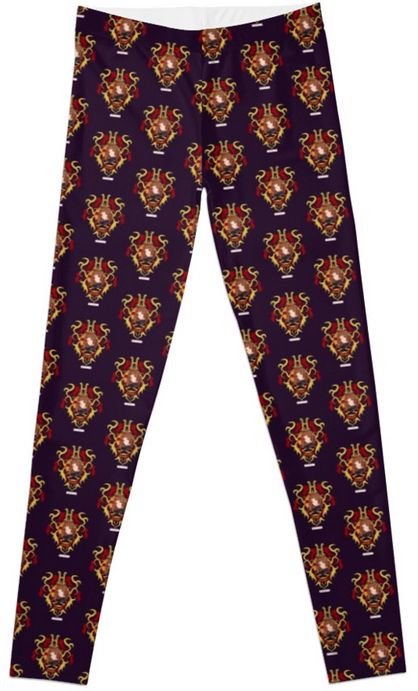 Check out our store on Redbubble!
Follow Common Room with Bloglovin
---
For more #Potterweek check out the following posts!
Pre Potterweek Bonuses:
Twice Upon a Time: The One with All the Changes
Heading to Hogwarts
PotterVerse: Clever Naming and the Importance of Mothers
PotterPeeps: Severus Snape, Hagrid's Birthday Cake for Harry, Least Favorite Character: Dumbledore, & Favorite Character: Draco
PotterPonderings: Mental Health, Circle Theory, CrackPot Theories, Lessons Learned from Dumbledore, Voldemort, Snape, and James
PotterHouse: Sorting Stories, Slytherin and Proud, CharmBomb
PotterParks: Potterhead Family Trip, Ashley and Debbie from You Haven't Seen?!
PotterPowers: Subtle Cosplay Spell Edition
PotterPotpourri: Draygons! Modern Geek Show, Potter Crafts, Fandom 5 Characters
SHARE: