Podcast: Play in new window | Download (Duration: 1:00:26 — 27.7MB)
Happy Birthday, Neville Longbottom!
When we meet Neville in his first year at Hogwarts, we couldn't have imagined he'd turn out to be the hero we see at the end of the series.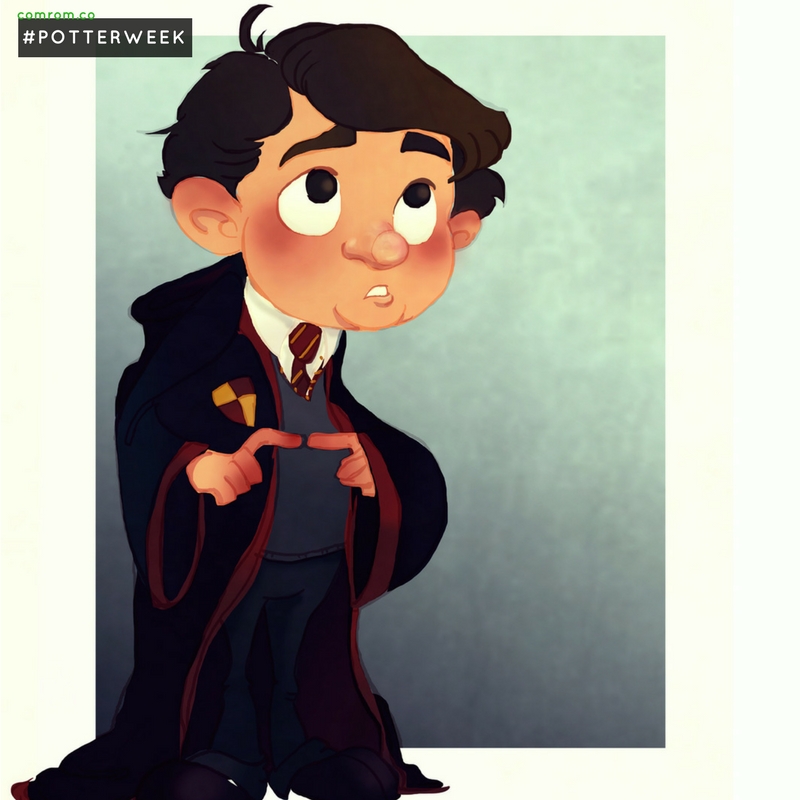 The biggest turning point came in Order of the Phoenix when Harry and Dumbledore discuss Sybill Trelawny's prophecy.
The one with the power to vanquish the Dark Lord approaches… Born to those who have thrice defied him, born as the seventh month dies… and the Dark Lord will mark him as his equal, but he will have power the Dark Lord knows not… and either must die at the hand of the other for neither can live while the other survives… the one with the power to vanquish the Dark Lord will be born as the seventh month dies…
What If?
Melissa from Readerly Geek and I try to have fun by asking What If about each part of the series. We also try to explain the whys behind the plot points in the series. From did Voldemort pick the Potters over the Longbottoms to how would Neville handle the Triwizard Tournament and would Dumbledore care for Neville as much as he did Harry in this alternate universe.
Art used by permission from Prydester on DeviantArt, see more here.
More Episodes from Potterweek
This is our third year of Potterweek. Here's a recap of what's coming up this year and what's already on the feed:
Potterweek 2017
Harry Potter and the Chamber of Secrets movie commentary with Nicole of We the Immigrants, Geeky Gatherings, How to Fangirl for Adults, and Common Room, and Debbie of The Geeky Twin, You Haven't Seen, and Common Room!
Race in Potter with Robyn of Geek Girl Strong and Mimi Mondal.
What is Canon with Elayna of SpeakBeasty and Paul of Blokebusters.
We Hate Quidditch with Nathan of Flights, Tights, and Movie Nights (and Channel: Superhero) and Fitz of SO MANY PLACES (also heard on our Star Wars Rewatch episodes)!
Potter as YA with Greg of Adventures in Poor Taste!
Potterweek 2016
7/25 Harry Potter and the Sorcerer's Stone movie commentary with Megan Gotch aka The Nerdy Girlie and Katie Elhoffer of Elhoffer Designs. Big kudos to our podcasting intern Kristen!
7/26 Hermione: Our Favorite Know it All GirlBoss with Amanda of Great Beer Adventure!
7/27 The Dursleys: A Look at Harry's Only Living Family Members with Kris of No Extra Words!
7/28 Relationships in Potter: Ginny + Harry, Snape/Lily/James with Alice of Girl Who Roams and Kayla of Epicfied!
7/29 Villains in Potter with Akua and Ashley both officers of Geek Girl Brunch NYC. Also of A Stylish Jedi and You Haven't Seen respectively.
7/30 Magic vs Muggle: How Each World Views the Other with Jada an officer of Geek Girl Brunch NYC and Julia Perkins (soon to be featured on our Lost rewatch podcast!).
7/31 Religion in Potter with Stefani and James (my friends from work!).
Potterweek 2015
#Potterweek #PotterPotpourri Draygons, S.P.E.W., and Fan Fiction
#Potterweek #PotterHouse Special Ep with the IGGPPC's Charm Bomb
SHARE: