Podcast: Play in new window | Download (Duration: 51:47 — 23.7MB)
What's more important that the trifecta of BodySpiritBrain? Lindsey chose three documentaries representing each element of her column name for her first ever Culture Club episode.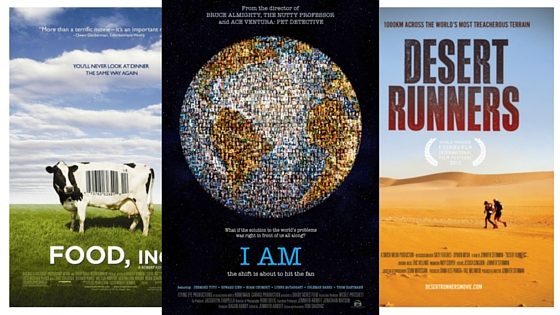 Body: DESERT RUNNERS
A diverse cast of non-professional runners attempt to complete the most difficult ultramarathon race series on Earth. Their dramatic journey takes them across the World's most picturesque yet brutal landscapes, pushing their bodies, hearts and spirits through a myriad of external and internal obstacles. DESERT RUNNERS delves into the mindset of ultra-athletes, and the complex ways in which human beings deal with both heartbreak and triumph.

Spirit: I AM
Director Tom Shadyac speaks with intellectual and spiritual leaders about what's wrong with our world and how we can improve both it and the way we live in it.

Brain: FOOD, INC.
An unflattering look inside America's corporate controlled food industry.

The winning vote was for Spirit, filmmaker Tom Shadyac's documentary I AM. Pat and Hadas joined Lindsey to discuss having too much stuff, connecting in an internet world, how education could solve all problems, and more!
Join the Conversation by Commenting Below!
---

Where do you find your favorite Marvel, Disney, or fandom gear? Check out our store on Redbubble!
Subscribe via iTunes or your favorite podcast directory!
Follow Common Room with Bloglovin
We are now part of Wizard World's Con Radio podcast network. Listen to some of our friends!
SHARE: