"Why isn't anything new on TV? I know you know. TV whisperer." That was the message my sister recently sent me to express her annoyance at the lack of things to watch on TV. The answer, of course, was that no network wants to ruin their ratings by going up against the Olympics. Not everyone watches, but enough people do. Luckily, there are some new TV pilots to sample, so let's dig in to those:
Star-Crossed (CW)-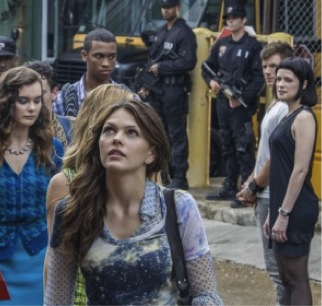 As a fan of CW shows,  I always start their shows with an open-mind. That being said, I am not a huge fan of Aimee Teegarden (loved Friday Night Lights but thought she was the show's weakest link), so I was skeptical. On the other hand, I loved Malese Jow as Anna on The Vampire Diaries, so I was crossing my fingers that it would balance Teegarden. The premise: When a group of aliens crash-land on Earth, the immediate response is to round them up and detain them in refugee camps. Ten years later, in an attempt to integrate the aliens, Atrians (called Tatties by humans for the random markings all over their skin), seven alien teens are sent to high school. Much in the way that people opposed integration in the 1950s, the people of Earth are not fans and protest, bully, and threaten.  Teegarden's Emery is a much more welcoming human who, after years of being homeschooled due to illness, is finally well enough to start school. The pilot was fun enough, but it remains to be seen if this will be one of the CW's more interesting fares or just the standard hot teen dramas.
Verdict: Not convinced but will be watching episode 2.
Growing Up Fisher (NBC)-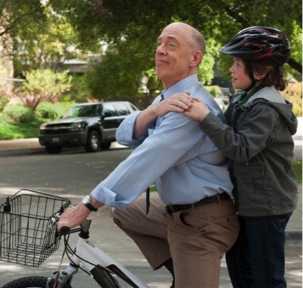 Another sad comedy outing for NBC. The story follows Henry, whose parents are getting divorced because his mother is just not feeling the relationship anymore. When his parents get divorced, Henry worries about having to split his time between the two. What makes this story unusual is that Henry's father is blind and has been hiding his blindness from the world with help from his family. He also seems to live in a state of denial, not only hiding his blindness but also doing things that are dangerous for him to be doing without being able to see. His mother seems to be mostly vain. Henry also has a sister who does not seem to be too bright. Unfortunately, that is all we learn about the Fisher family, because the entire pilot was spent on gags related to his blindness. The show is missing the heart that makes a family comedy so enjoyable.
Verdict: A weak attempt at family fun.
About a Boy (NBC)-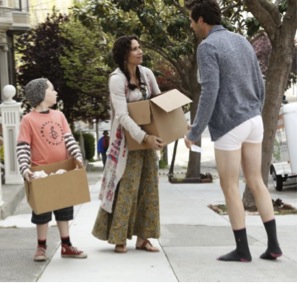 While I was not a huge fan of the movie, I was willing to give this a shot because I am such a fan of Jason Katims' work in Parenthood. The show follows man-child Will (David Waltaon), who is determined never to grow up, has his plans disrupted when a very tightly wound, new-agey single mother Fiona (Minnie Driver) and her awkward son Marcus (Benjamin Stockholm) move in next door. In spite of himself, the perpetual bachelor finds himself drawn to helping Marcus deal with bullies and school embarrassment. My faith in Jason Katims was not misplaced. The pilot was heartwarming and funny, and though not flawless, I see a lot of potential. Sometimes I am surprised to be reminded that Minnie Driver is British, but the show keeps her accent, though Marcus sounds completely American. Walton and Stockholm are particularly well-suited for their roles and really drive the show.
Verdict: Coming back.
What do you think TV watchers? Have any of the pilots gotten you excited for these mid-season series? Will NBC finally have a bonafide hit on their hands this year (especially in the comedy department)?
SHARE: