Podcast: Play in new window | Download (12.6MB)
Using Polyvore,  we tried to incorporate some Traditional Indian styles into our everyday styles. Check it out!
Vanessa:
I love Indian high fashion – the bright colors, the amazing accessories, and epic jewelry.  If I could get away wearing a sari, I think I would – they really do flatter everyone.  For this challenge, I took the idea of the colors and jewelry to create my Indian inspired fashion.  I found this great bright maxi dress to create a sari without a midriff. (No matter how many Ab challenges we do, I don't think I can feel comfortable in a midriff baring top.) I chose a long necklace so it could be seen with the scarf.  Add those with the ear cuff, dangle earrings, big bracelet, nose ring, and of course, my signature style TOMS shoes.  It's probably a little more "bohemian" than Indian, but I'm digging this look.
Lindsey: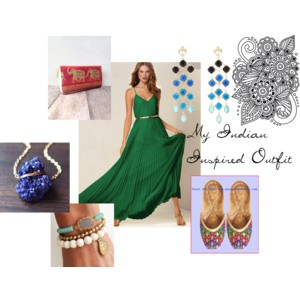 When choosing my outfit for this challenge I wanted to focus on the use of color. A lot of saris have bright, bold, pure colors so I chose to play with royal blue and emerald green. I wanted my take on this look to be something I would actually wear and possibly from places I normally shop. I am obsessed with this dress from Victoria's Secret. I think the color is AMAZING and I can see a woman dancing in this dress. It would be perfect if it had an intricate design but I, think it still makes a statement. I hate high heels and I think of sandals and flats when I think of Indian women. In fact most Indian dancers I have seen dance in bare feet. These shoes are so fun and add some playfulness to a relatively simple dress. I wear jewelry pretty modestly so I toned down the size of the jewelry and used them to add the color pop/pairing you see in lots of saris. The elephant bag is from etsy and, well, it is just perfect to bring in a very literal Indian reference. 
Hadas: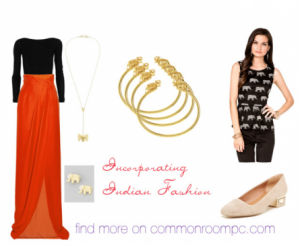 Indian fashion, and especially traditional Indian fashion, is beautiful, but it's really not my personal style. I love it in decorating, but that's not the challenge here. This Fashion Challenge is actually turning into a subtle cosplay for me. The real fun part was choosing elephant related accessories and/or clothing. My mother loves elephants and the black peplum shirt shown here is actually something I bought because it reminded me of her. The bangles are really cute and while bangles never fit me because my wrists are microsized l I like them more than free form bracelets. The studs are super cute and exactly my style and the necklace is fun and different. In an attempt to emulate at least one real thing, I chose a vibrant red maxi skirt paired with a black bodysuit which I would adorn with jewelry and appropriate long brunette hair and brown skin that I happen to just have naturally. /wink
SHARE: