Podcast: Play in new window | Download (16.3MB)
This F3: Fashion Challenge is part of Episode 26's Into the Woods theme!
Using Polyvore we created our favorite formal wear looks. We imagined we were going to an event just as important and fancy as Cinderella's Ball, but maybe with less pouf?
Estee:
I decided to make two different outfits.
The first is more fairytale/princess formal because it reminds me of something a Disney Princess might wear. The dress actually reminds me a lot of both Belle and Cinderella. I picked simple yet sparkly accessories not to distract from the rhinestone embellishments that are already on the dress. Even though, the shoes are just glittery they remind me of glass slippers. I kept the nails and makeup simple as well because fairytale princesses tend to not wear much (if any) makeup.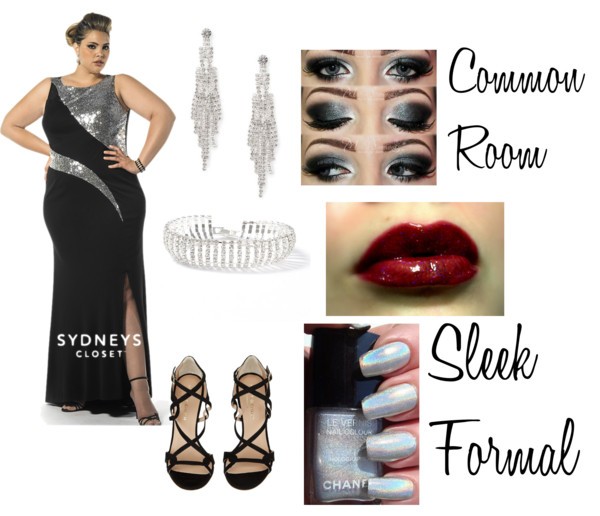 My second outfit is a bit sleeker and modern like something you might see on a red carpet. The dress really caught my eye because of the contrast between the black cloth and silver sequins. I picked rhinestone jewelry that was a little simpler, but still sleek to compliment the line of the dress. My shoe choice was basically just a mirror of what the dress model was wearing because it looks good so why mess with a good thing. I opted for a metallic nail polish which I'd also get on my toes since the shoes are open toe. Finally, I chose more dramatic makeup that has some shimmer to tie the look together.
Hadas: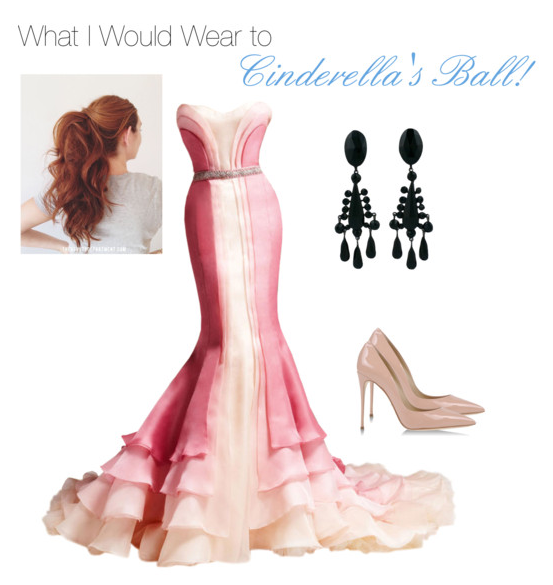 My usual MO for Polyvore Fashion Challenges is to go to my favorite sites and clip my favorite looks to Polyvore. I spent a good half hour doing that and then discovered this dress in my favorite items on Polyvore. Ha! This dress is something else. I would love the confidence to wear (a modest version of) this. The colors would work so well with my skin tone and hair color and it's just the most extravagant dress I could ever imagine wearing. Paired it with dramatic earrings, nude/pink pumps, and a fun ponytail hairstyle. Guess this means I'm channeling Aurora (Sleeping Beauty) in a way.
Lindsey: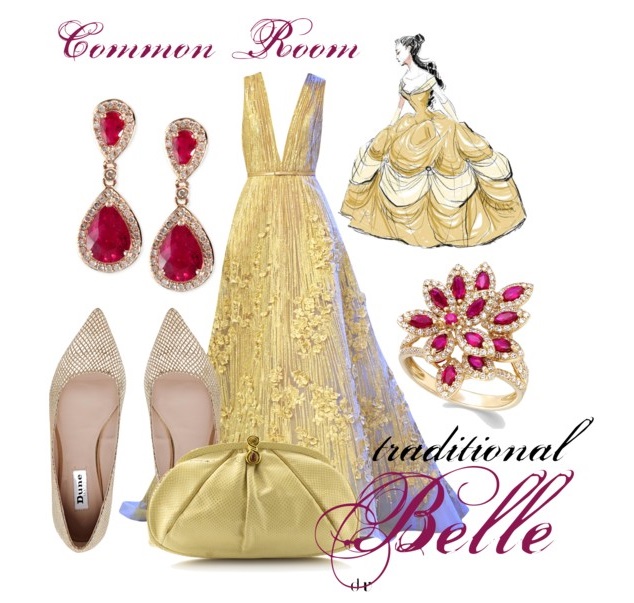 Even though, Belle is not included in Into The Woods, she is still my favorite princess and style inspiration if I were to go to a formal event or Cinderella's Ball.
My first outfit is inspired by Belle's traditional (or iconic) yellow ball gown. Strapless gowns are not my favorite so I love the top of this dress. The plunging neckline adds drama while staying sexy in a subtle way. Belle's ball gown has a lot of detail on the skirt which this dress mimics with flowers and pleats. To add a little color and statement, I went with bold ruby jewelry that reference the rose in Beauty and the Beast. To top everything off, I found a cute little clutch and my personal favorite, gold flats. The skirt is so full I don't think anyone would notice the lack of heels.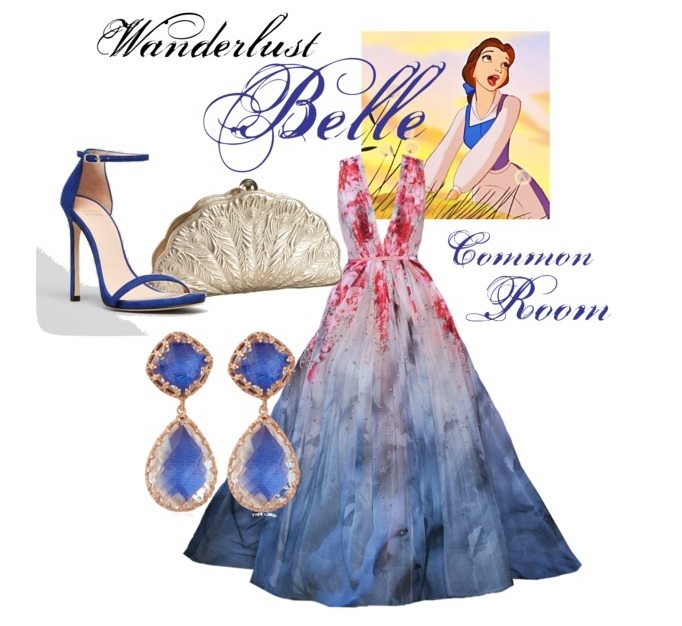 I fell in love with my second dress instantly. Blue is my favorite color and I love that it references Belle's blue dress at the beginning of Beauty and the Beast. This dress is less traditional and adds some flare with the textile on top fading into white and blue. The red print subtlety references the rose as well. What I love about Belle's blue dress is that it is pretty but not overly glamorous. It references a time where adventure was waiting for her and she was excited about everything. I think this gown captures that feeling. It also has a flattering structure almost identical to my first dress. I couldn't find flats that I enjoyed in blue, but these heels are pretty sexy. I do enjoy heels on rare occasions.
What Would YOU Wear to Cinderella's Ball?
SHARE: