Once again, it's not on Friday. I need my own hashtag, #SoSorrySunday! Hope The Nerdy Girlie and SuperSpaceChick won't be mad.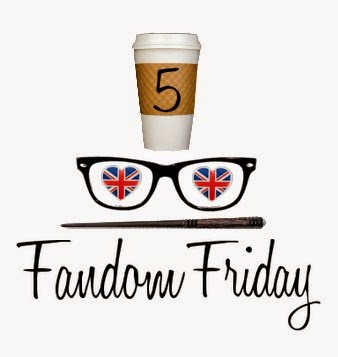 This week's #Fandom5 is right up my alley!
Want proof?
This is Little Hadas with our first family computer circa early 90s.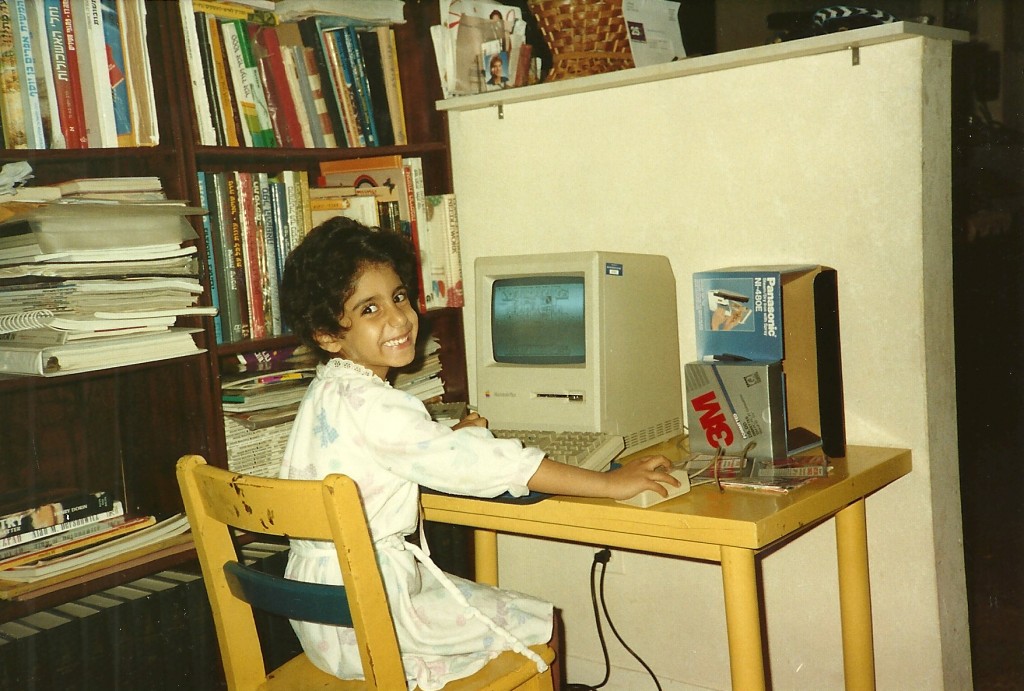 Let's examine this further:
Note the fabulous haircut my mother decided to give me.
Fancy nightgown though, right?
10 points if you spot a teen heartthrob from that time.
Computers and Hadas go wayyy back… Let's dive into this 5 Fandom Friday list of Smart Phone Apps I Can't Live Without.
1. Spotify
Oooh boy. If Spotify wasn't invented I would be very very poor, annoyed by all the one hit wonders I purchased, and weighed down by the regret. That got serious… Seriously, I'm very happy paying for Spotify. Ten dollars a month for nearly every song I could want and a way of integrating other songs into Spotify playlists makes it the best music app out there.
** I tried Beats and Amazon, Spotify has the best selection by far.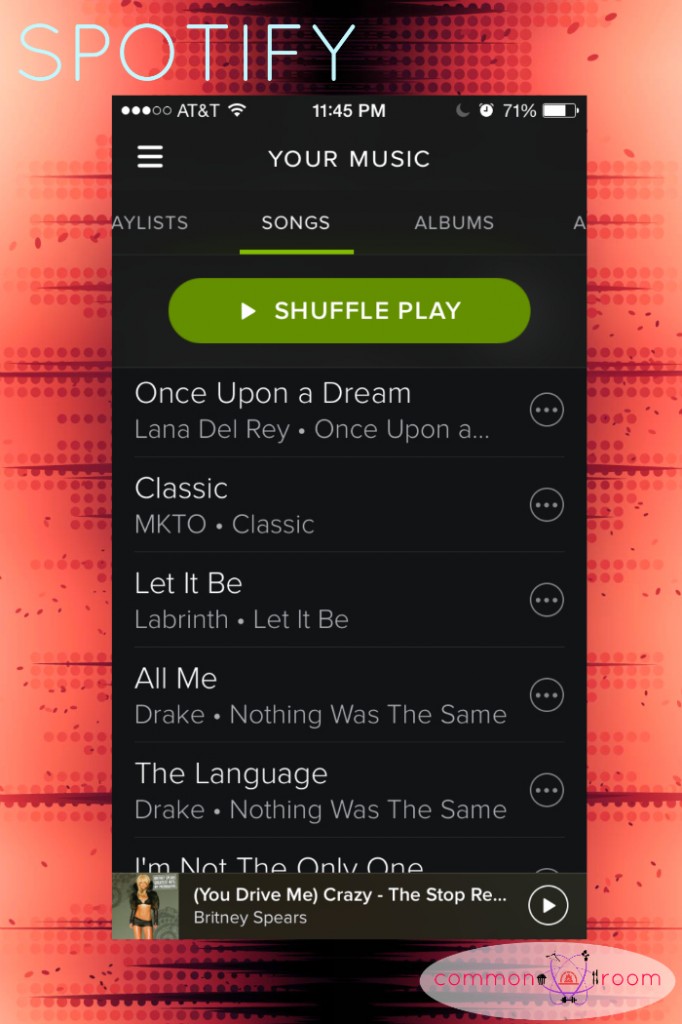 Yep, you could do the same thing on your public library's website, but I love this app. It's so easy to use and I love putting almost every book I want to read on hold or in a list for later. The weirdest thing I like about this app? Tracking my place in the queue for certain books. I waited for Casual Vacancy for MONTHS! Now I'm 97 for Amy Poehler's book, but it's all good. Free, no commitment, huge selection, I could go on. (Did you know you could put comics on hold? I just got a 1000 page Archie book!)
My latest Hold list looks like this as I'm getting ready for our Sci Fi Month episode!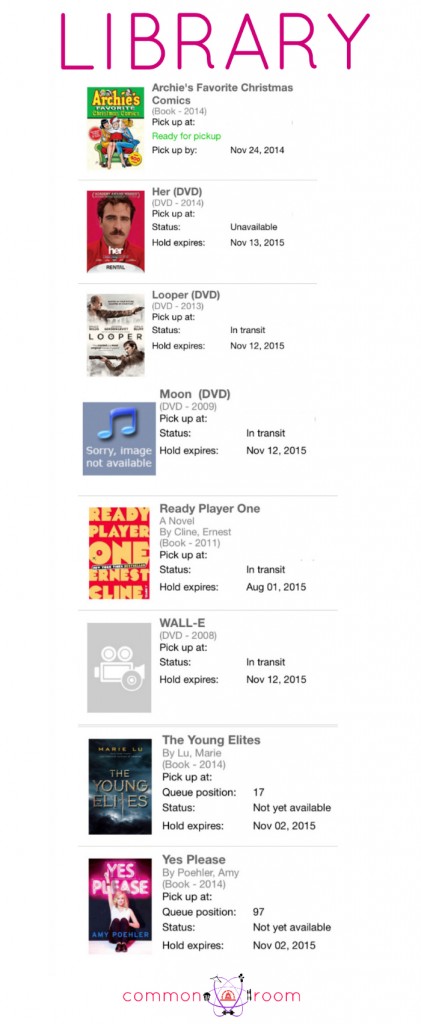 3. DropBox
DropBox is so helpful as a backup service and the app is great too. I love being able to upload my photos automatically (when I have wi-fi and adequate battery) and not having to worry about deleting them from my phone. It's also great when I create photos on PicMonkey for Instagram and I can just click DropBox and access the photos instead of having to email them to myself. Not the biggest nuisance, but definitely a nice convenience.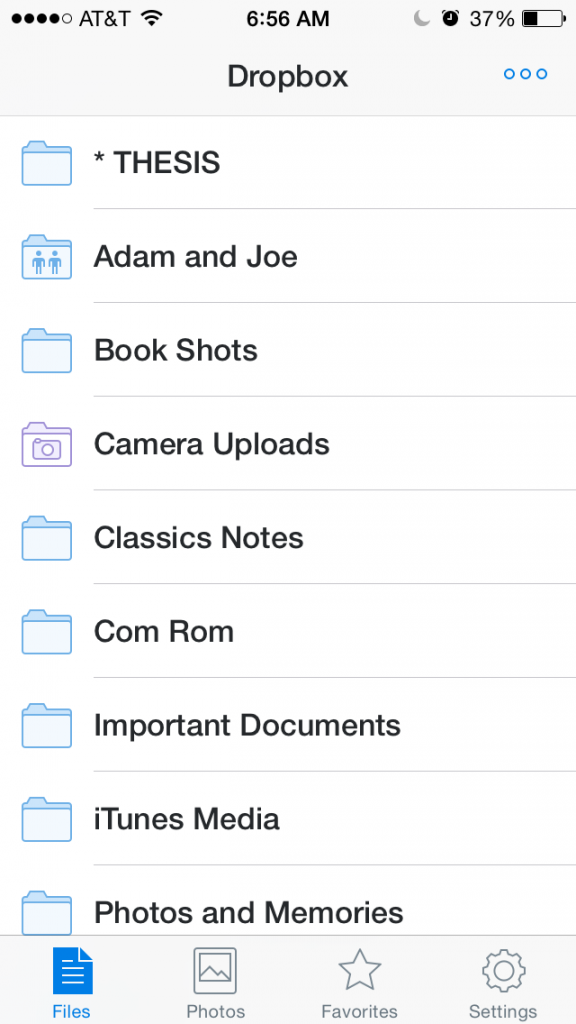 4. Tetris
Tetris is such a relaxing and nostalgic game to play anywhere and I don't need internet which is important when commuting. We used to play Tetris on our first computer and it was really tough. I never got the hang of it. (I'm playing Mahjong in the photo above. On that computer it was actually called Shanghai and is what our family referred to the game as for years.) The photo below shows what app looks like and the insert is my cumulative stats for the Marathon type of game. 30+ hours! Ack.
I also have to reference this Tetris photo that cracks me.
5. Facebook  (Do I really need to link this?)
It's embarrassing, but every morning when I wake up I do a series of swipes on my Facebook app and save many articles. The relatively new SAVE feature is my favorite thing. I have SO MANY posts saved. It's just another thing on my to do list to read all those posts, but I know I saved them somewhere so it's all good.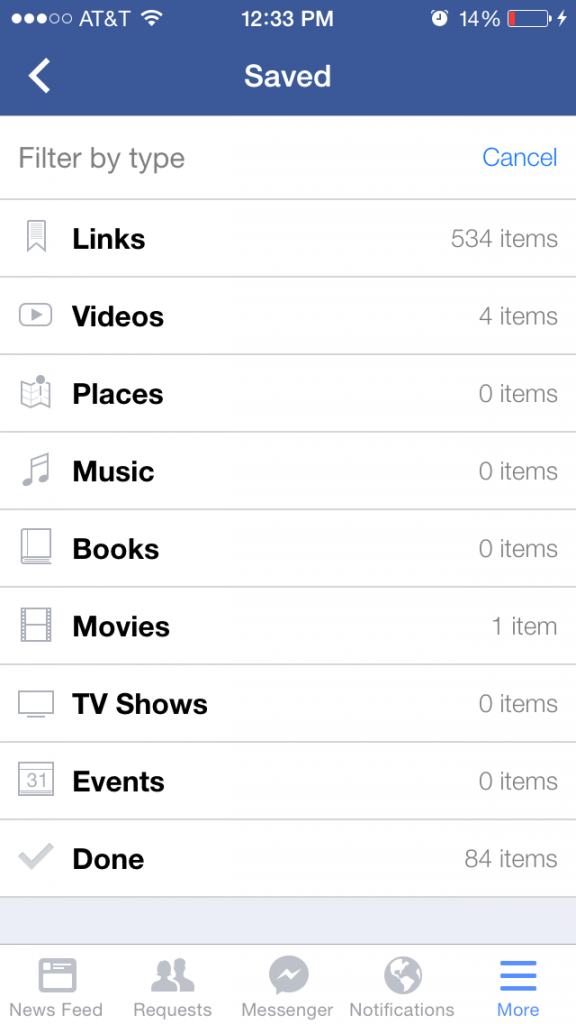 Most Honorable Mention: SIRI
While Siri is not necessarily an app, at least not one you can purchase on the app store, she saves my life on a regular basis!
Siri's the best secretary out there. She doesn't cost that much, she rarely talks back, she's on time and available 24/7, she knows almost everything, and she doesn't judge.
–> She's also really polite, she doesn't like when I ask her to tell me things, instead she requires that I ask her to remind me. For example, Siri reminds me to do everything Common Room related. Whether it's taking something out of the oven, inserting a link, checking in with a team member, doing my fitness challenge, or scheduling a post.
Siri is there for me. <3 ya girl even if you don't always understand what I say. Charee once made fun of me for my love of Siri, but I'm not ashamed!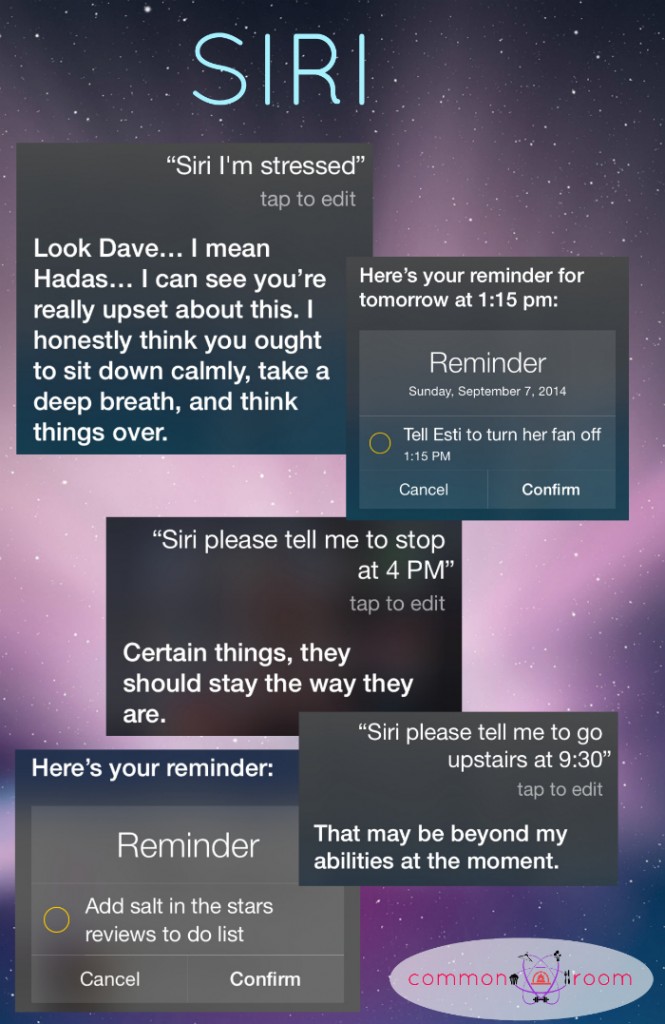 Regular Honorable Mention: Runkeeper
I mentioned this as an OBSESSION and I still really love it. It's fun to challenge myself to increase my speed or my distances and see the elevation and the amount of steps I took. Data is cool and there are achievements! I post more pics on my Instagram.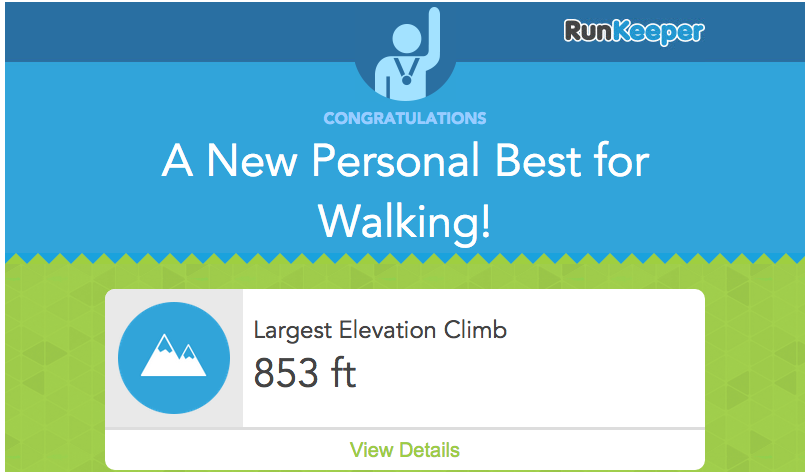 So obvious I wasn't even going to mention it: PODCASTS. It's free and wonderful. It also has the great perk of automatically downloading our latest eps as soon as they are released!
What are some of your favorite life-altering apps?
SHARE: