Lindsey here for #Fandom5 this wonderful Friday. This week's topic from Megan and Kristin is super fun: One Fandom Item Styled 5 Ways! Awesome!! My item is the Urban Mermaid Tee from Adorkable.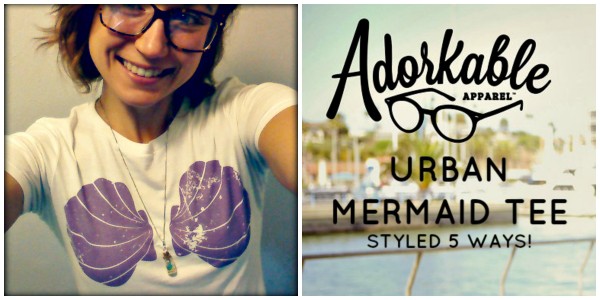 I bought it to wear after I finished running the Disney Marathon (I'm going to throw in a tip: have a change of clothes waiting at the finish line) and it is a super fun shirt! I am totally buying my little niece the Kids Urban Mermaid Tee!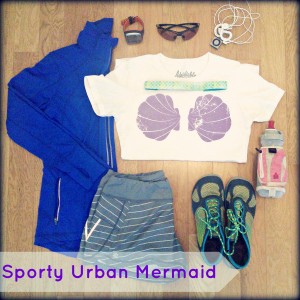 Since my posts are about BodySpiritBrain I have to start with a sporty look ;) This shirt can easily become active wear when paired with some simple running shorts and shoes. I even have a mermaid scale Sweaty Band to complete my look! I wouldn't recommend this for hardcore workouts due to the shirt being made of cotton, but it is comfy for less intense or shorter activities.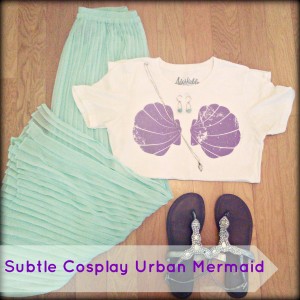 I have actually worn this look to school for an adjective lesson and it totally worked! The kiddos loved it and teachers who didn't know what I was doing said I looked like a princess.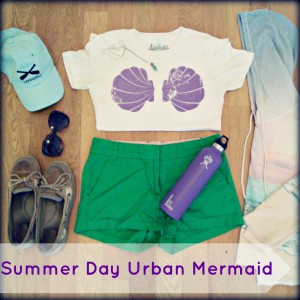 A tee or tank top paired with shorts and boat shoes is my go-to summer outfit so this outfit is pretty reflective of my daily fashion (I guess the green shorts make this a subtle cosplay outfit as well. We will pretend that was on purpose). You will not see me without one of my water bottles as well. They might as well be considered an accessory.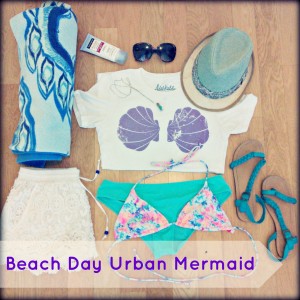 Every mermaid needs a beach look. Bikini, sandals, lace cover up shorts, mermaid tee, sunglasses, and a hat….Ocean waves here I come!! And don't forget the sunscreen!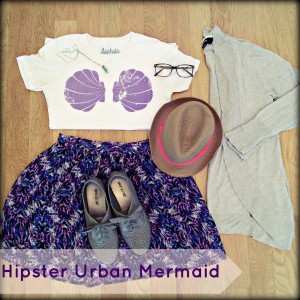 I forgot to include one of my lightweight scarves. I love wearing cute little skirts so this outfit is just ador(k)able in my opinion. My glasses are real though :)
What Is Your Favorite Fandom Item??? 
SHARE: