Life sure can get a hectic, am I right or what? I haven't had as much time to read as I'd hoped recently so it took me a little longer than usual to finish this book. It wasn't the book's fault at all. I promise! In fact, I liked it a lot. So without further ado here is my review (hehe I rhymed) of Unhinged by A.G. Howard.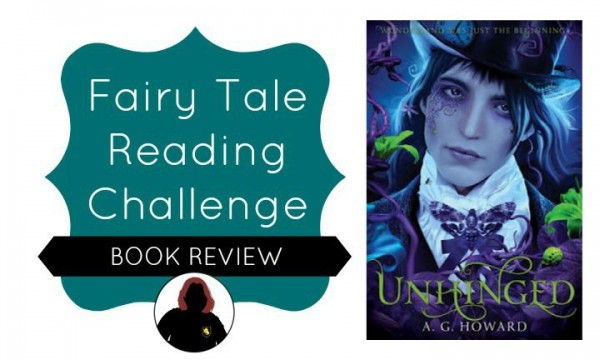 How I came to find this book:
It's the next installment in the Splintered series. Since I enjoyed the first two stories so much I figured it was only common sense to keep going and read the next book.
My rating:
I really enjoyed this book so I gave it four smiles.

What's the story about?:
This part of Alyssa's story takes place nearly a full year after the events in Splintered and in the human world. In it Alyssa has to deal with the repercussions of all of the things that happened and how she decided to use her wish in Wonderland.


My favorite thing about this book:
I love that we get to learn more about Alyssa's parents, Thomas and Alison (aka Tommy-Toes and Ali-bear to each other), because they're a really sweet couple. We really get to know more about Alison in particular and her story is pretty interesting.
My least favorite thing about this book:
There are so many lies and secrets it's almost hard to keep up. I completely understand that they are a huge part of the story, but I felt bad for so many characters because no one really knows the full story of their own lives.
My favorite character and why:
I went with Queen Ivory this time around. She was one of the only characters that actually told the truth the majority of the time. It was nice to see someone share information with another character because they had a right to know.
My least favorite character and why:
There are many reasons to dislike Sister Two. She's crazy, evil and completely out for revenge, but my main reason for not liking her is the way she's described. It's honestly a terrifying mental image.
A woman that has the lower half of her body like a spider, one hand made of scissors and the other of scorpion tail is quite frankly a thing of nightmares.
My favorite quote:
"One does what one has to do to protect what they love."
My next #FairytaleRC book is also part of A.G. Howard's Splintered series. I'll be reading Ensnared.
WHAT WILL YOU BE READING?
SHARE: