I don't know if it was because I had a sudden break in the mayhem of life. Or if maybe it was because I was reading this book of the series for the first time for the #FairyTaleRC (I personally suspect both). But Ensnared by A.G. Howard had me so engrossed; I read it faster than I've read anything in months.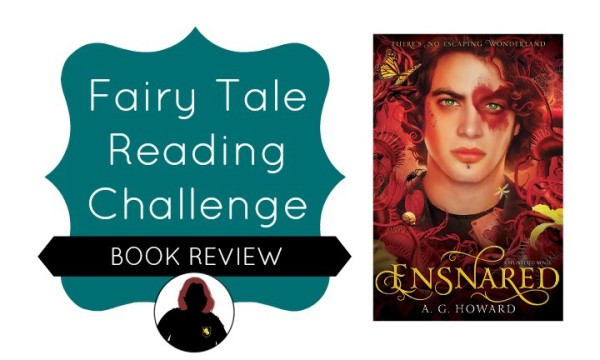 How I came to find this book:
This was yet another installment in the Splintered series. I loved all of the previous stories and had to see where things went next so I naturally had to read this. (I'm also looking forward to the novella Untamed due out in December.)
My rating:
What's the story about?:
The story picks up not long after the events of Unhinged. Alyssa has to go back to Wonderland to save everyone and everything she loves even if it means she could potentially pay the ultimate price.


My favorite thing about this book:
There is so much magic in this book; it's incredible! I am a huge fan of magical stories because they get my imagination going better than anything else. Add the fact that it's a type of fairy magic (in case you didn't know I am a fairy nut!) and it's a shock that my head didn't explode from all the fun images it was holding.
My least favorite thing about this book:
The epilogue. I'm sure it was written the way it was for a plethora of reasons; not the least of which being the upcoming novella or to keep the book from being 900 pages long. But honestly it was a little too rushed for me.
My favorite character and why:
I'm not sure I had a favorite this time. I enjoyed all of the interactions among the main characters so much I'm really not sure I could pick one favorite.
My least favorite character and why:
This one is a tie between Queen Red and Queen Hart. They're both evil so of course we're not supposed to like them, but these two take the cake.
My favorite quote:
May the fairy goddess light your footsteps with stars, and may your travels be fair, however far you roam.
While I wait for Untamed to come out, I think I'll be taking on another series for the #FairyTaleRC. This on is by Jamie Campbell and is called Fairy Tales Retold. I look forward to starting the first book in the series, Cinderella is Evil, this weekend.
Tell us what you're reading.
SHARE: