Podcast: Play in new window | Download (Duration: 1:05:58 — 30.2MB)
We had so much fun with Catherine Elhoffer on the podcast we broke it into two episodes. Click play above to listen to part 2. Don't forget to listen to part 1 first and to Like her on Facebook for all the latest designs (Official Site, Twitter, Tumblr, Instagram TOO!)!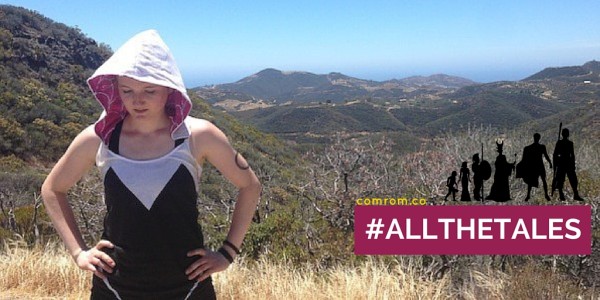 We discuss a bit about stories, designs, and personalities, specificly what it was and is like to be yourself. Catherine also mentioned her friends Rock Love who creates nerdy jewelry, and The Mad Masker who makes prosthetics for costumes and cosplay.
I thought to place the link to Elhoffer Design's second podcast ep with our post about an exhibit Debbie and I went to in January.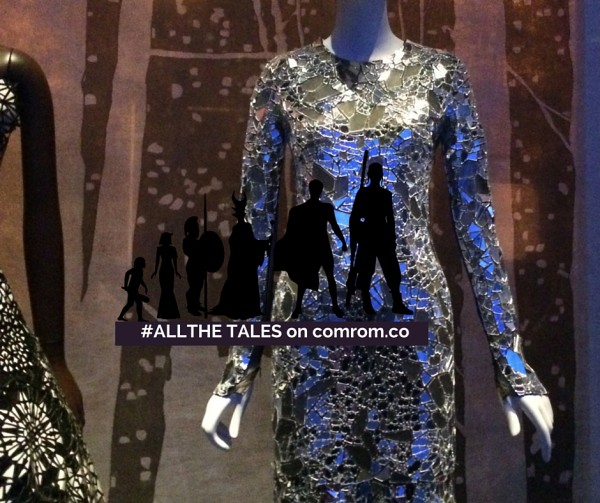 FIT (Fashion Institute of Technology) has a museum with some fun free exhibits, including a Fairy Tale Fashion display. Not only did the exhibit collect pieces from many different designers and group them by tale, it also explained a bit about those tales.
The exhibit is actually inspired by a book written by Colleen Hill; With Patricia Mears, Ellen Sampson, and Kiera Vaclavik and I am dying to get my hands on it. Hill wrote a great introduction to the exhibit in the brochure. Some of my favorite bits are excerpted below.
"The Paris openings have really opened something. They have opened a desire in the feminine heart for more beauty, more elegance, and more luxury. They have suddenly awakened the Sleeping Beauty slumbering in all of us, turning every woman into a fairy-tale princess. It is so easy to imagine what such a princess would do!" –Vogue, October 1, 1933

The term "fairy tale" is often used to describe clothing that is especially lavish, beautiful, and seemingly unattainable. Yet in spite of its ubiquity within the fashion lexicon, connections are rarely made between our perception of a "fairy tale" gown in fashion editorials or on the runways, and the texts of classic fairy tales. The significance of Cinderella's glass slippers is widely known, but they represent only a fraction of the references to clothing in these stories. 

… While fairy tales have a long history within fashion, the arts, and popular culture, they have proven in recent years to be more pervasive than ever. In her 2015 publication Once Upon a Time: A Short History of Fairy Tale, the mythographer Marina Warner wrote that people of various professions, including couturiers, performance artists, photographers, and even therapists "are losing themselves in the forest of fairy tale in order to come back with baskets of strawberries picked in the snow." But why is this? And why have fairy tales been so important to fashion in particular? Some theorists believe that designers are creating fantastical and escapist clothing in an attempt to counteract an increasing emphasis on technology, functionalism, and globalization.

…In real life, we are frequently encouraged to believe that with the acquisition of the right wardrobe, we will lead better lives—a "fairy tale"—like existence. We hope that a change in the way we dress can act as a means to reinvent and reimagine ourselves, as it works in fairy tales. Perhaps we can truly fashion our happily ever after."
Quick note on the photos you are about to see: the photos with the FIT Museum stamp are republished with permission, originals can be found on Flickr. Photos without the stamp were taken by myself or Debbie!
First, this promotional shot of what I call… the Kylo Ren dress. Am I right or am I right? Actually: Charles James, Swan evening dress, 1954-1955, USA. The Museum at FIT (illustrating "The Swan Maidens").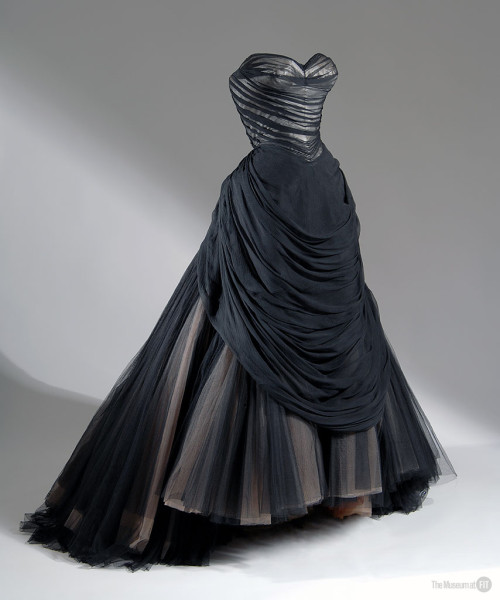 This next image is of The Little Mermaid interpretations. The first two are meant to show the sea witch. That second one from the right was so confusing and intriguing. I am not sure we could find where the head would go. A bit more kaiju than Ursula, imo.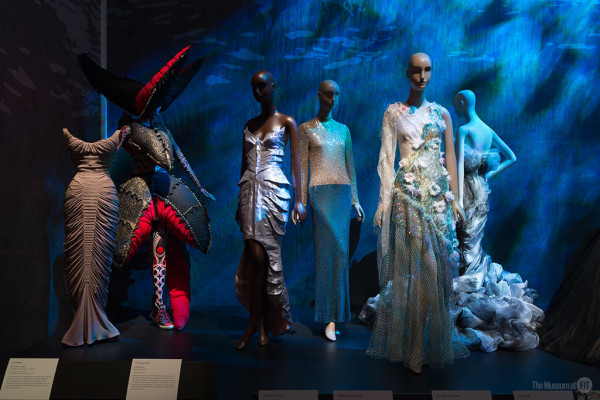 This series of red hoods were true Fairy Tale Fashion I'd like to have come back. I love capes (and so does Elhoffer Design, listen to part 1).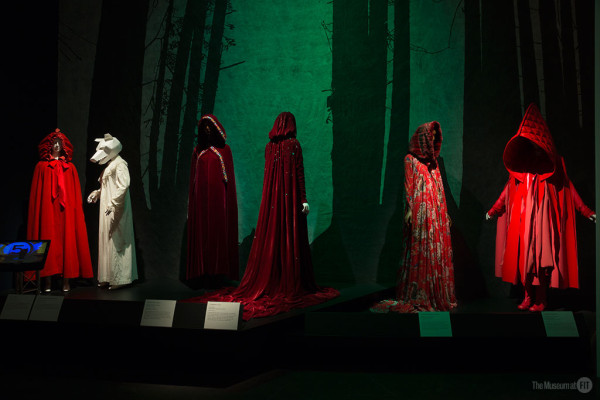 The Snow Queen section. I love the third dress from the right. Up close you can see the hard work that went into those cut outs. I'm pretty sure they were leather (and a bit ruffled at this point too).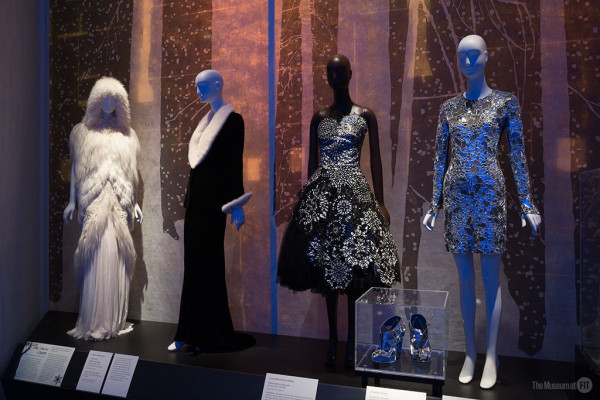 This was the Alice in Wonderland section and it was one of my favorites detail-wise.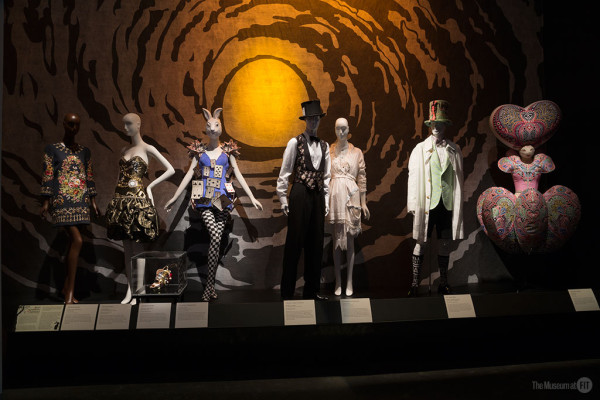 Debbie snapped this photo of one the dresses inspired by the White Rabbit most likely as it has a watch embellishment on it. (Did some digging since there is no official site with all the attributions. Looks like the dress on the right is by Louis Feraud and the dress on the left is by Dolce and Gabbana.)

I liked the detail of Mary stamped on this shirt. I'm not very well-versed in Alice in Wonderland, so readers, help me out? What is this outfit supposed to reference, if anything?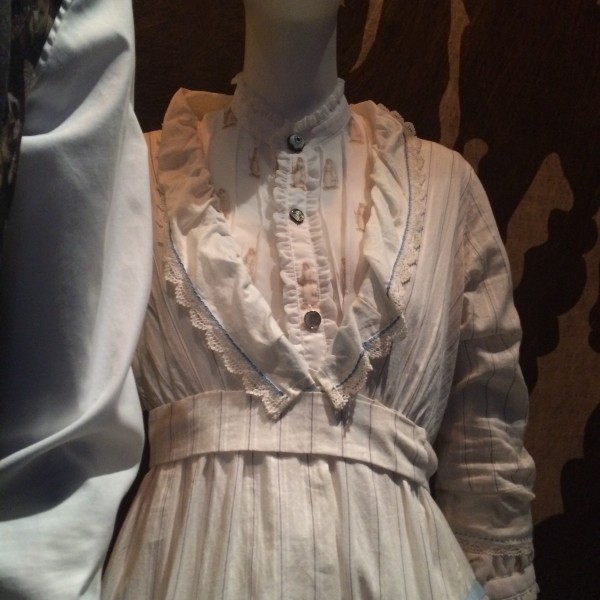 Another White Rabbit outfit. I love vests and this one is perfect for the collection.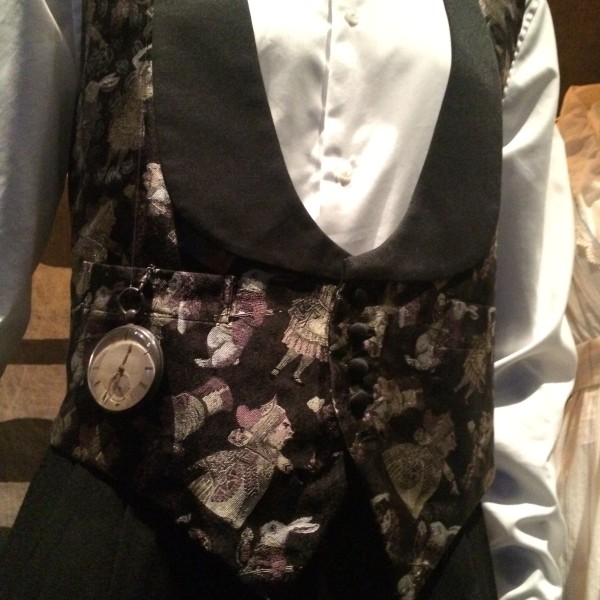 Next up were more princesses. Rapunzel's section was pretty cool. I didn't immediately recognize that this dress represented her until I saw the hair poster behind the mannequin.
Alexander McQueen, dress, fall 2007, England. The brochure adds, "…densely embellished with a cascade of beaded golden tresses, was part of a collection inspired by witches. This reference further illustrates the power associated with hair—especially blonde hair—in folklore and mythology."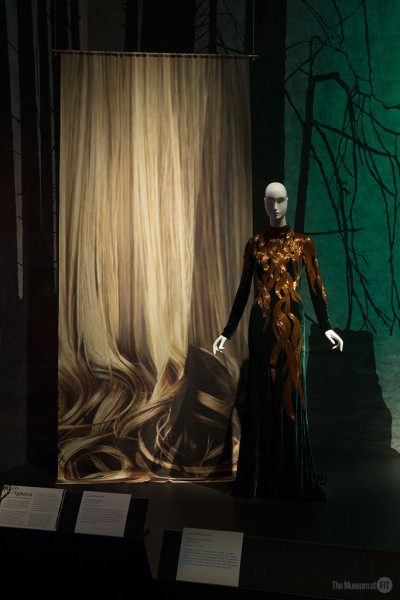 A closer look at one of the dresses from The Little Mermaid collection from Debbie. I included it here because I'd like to label this a Lost Smoke Monster inspired dress. Obviously.
For a closer look at the dress on the left see this runway snap.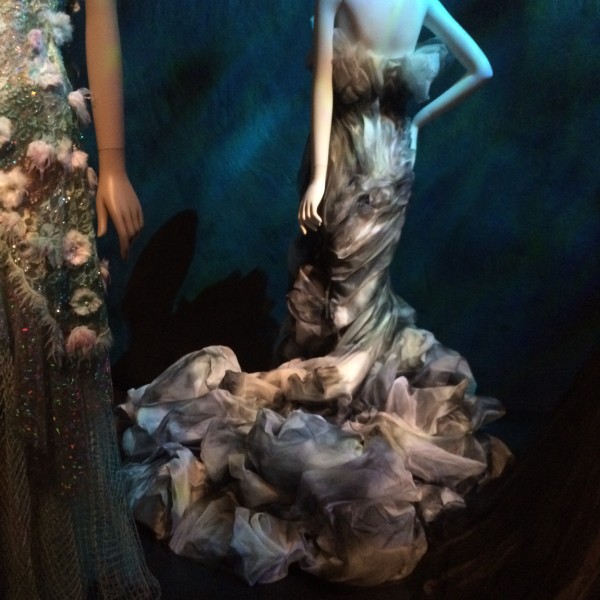 Out of many Avante Garde or overly elegant pieces, I really enjoyed this dress. It is meant to be a Sleeping Beauty inspired piece. Would you want to wear this too? (Rodarte, Spring 2007)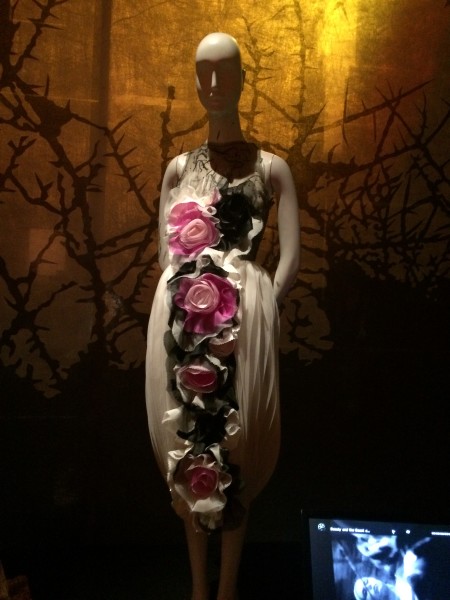 This is one of the coolest scenes from the exhibit. The full image below shows the entire scene and this first photo is Debbie's closer shot of just how creepy the hooded figure is near Snow White's glass coffin.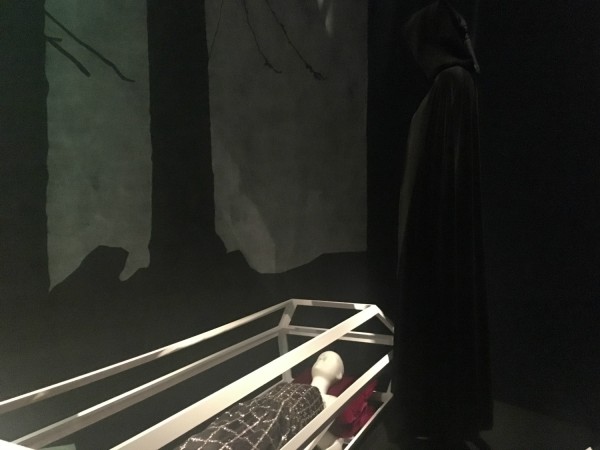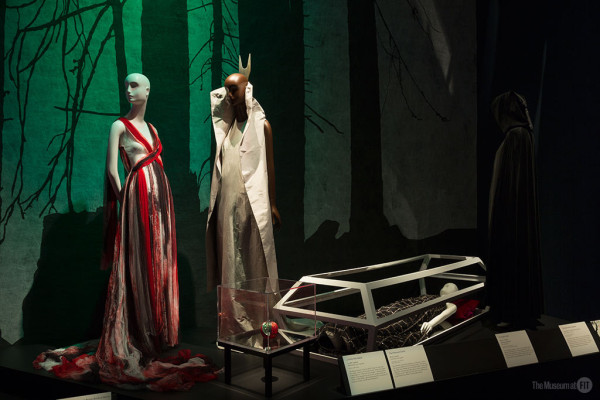 Ooh breathtaking. Zuhair Murad's dress (right) was in the Sleeping Beauty section. (Dress on the left is Marchesa, 2012)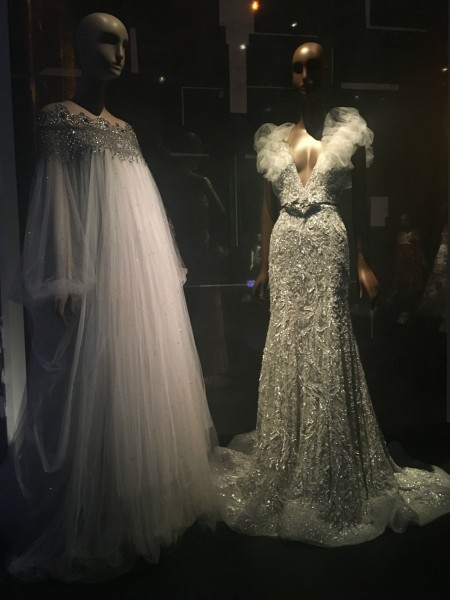 Debbie also snapped this Alexander McQueen piece (right) that has a pretty nifty castle printed on it. (Left is a Dolce and Gabbana piece that is very Knight in Shining Armor, see it on our Insta!)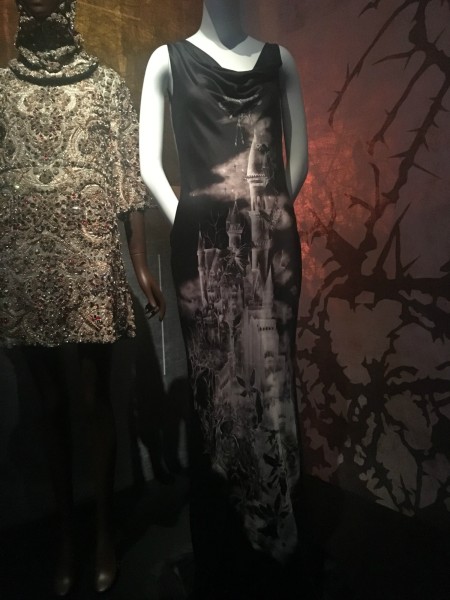 This Giles Deacon dress was placed in the Cinderella section. Possibly to illustrate the Cinder part or the scene/s when her dress is destroyed.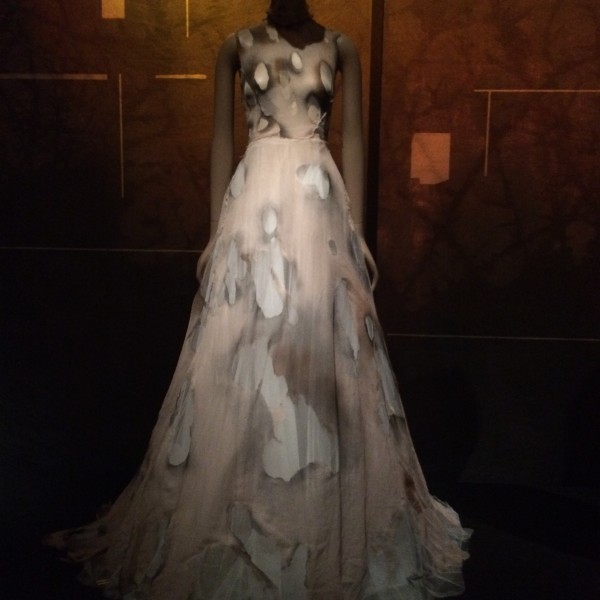 The Shoes
Christian Louboutin Lady Lynch Stilettos (Ruby Slippers- The Wizard of Oz) Fall 2009-2010.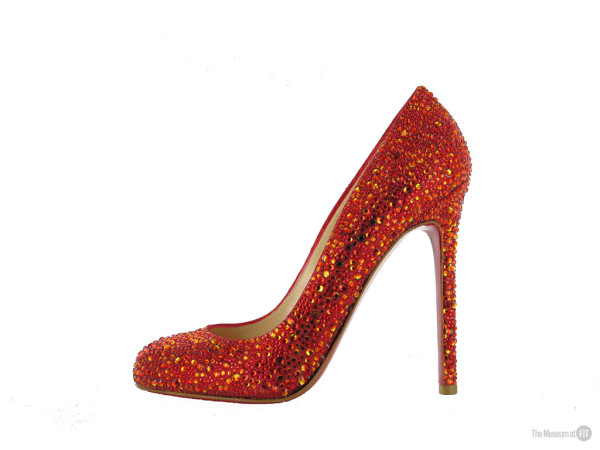 Noritaka Tatehana Cinderella Slipper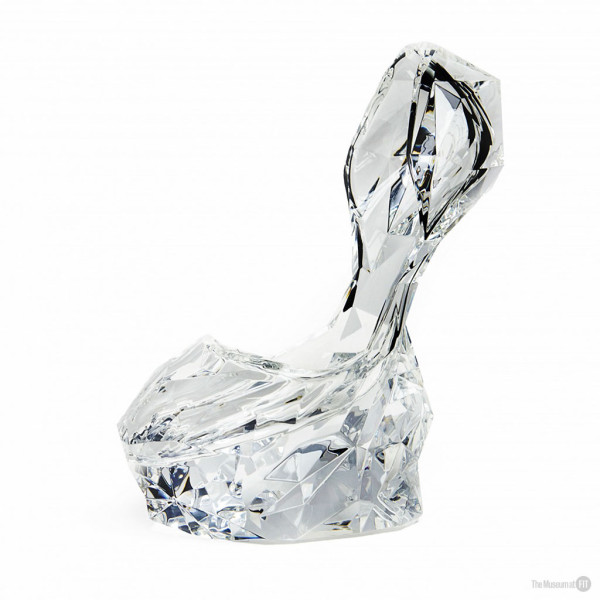 Christian Louboutin "Alex" Lion Paw Pumps (source)- Beauty and the Beast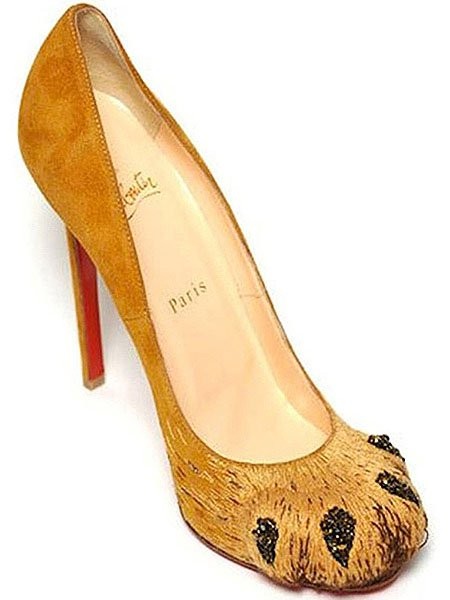 What the what? I've never heard of Furrypelts, have you? Here's what the brochure says:
(Based on the tale by the Brothers Grimm)

In an effort to deter her father's proposal of marriage, a beautiful young princess demands that he provide her with four seemingly impossible garments: dresses that shine like the sun, the moon, and the stars, and a fur cloak made from the pelts of every animal in the kingdom. When the king manages to obtain these clothes, the princess flees intro the woods, disguising herself in the claok and packing her three magnificent gowns. She later uses the gowns to awe a king in another land.

The princess is wearing her glittering star dress when she finally wins the other king's affection. The spectacular star motif on this early 1930s gown was intricately crafted from tiny silver beads, highlighted by rows of silver sequins.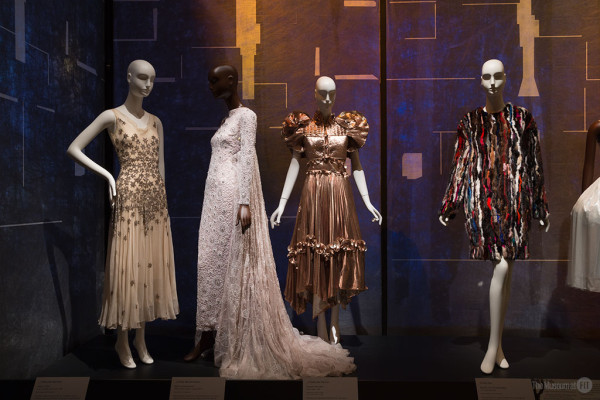 Which is your favorite piece from the Fairy Tale Fashion exhibit?
SHARE: