Podcast: Play in new window | Download (Duration: 52:41 — 24.1MB)
We wanted to find a workout worthy of a Tribute in the Hunger Games. /flex We tried a workout sheet from Darebee, formerly Neila Rey, and did a really fun video from Cassey Ho aka Blogilates.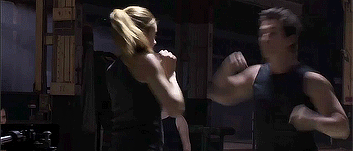 Lydia: Yikes. That Hunger Games workout is intense, but man is it good. It works out all your muscles! I'm having to do this slowly because I am way out of shape, but I think this is an excellent routine to add to any workout.
Also, can I just add, a GREAT workout is actually archery! I've started that up recently though Katniss is significantly better than me.
Dystopian Survival Workout: Blogilates' The Victor's Workout
Estee: That Blogilates video was a great workout but it had me cracking up too it was fun and not overly difficult. The Darebee sheet was a good workout (I stayed with level 1 though), but not as fun as the Blogilates video.
WHAT ARE YOU DOING TO SURVIVE A DYSTOPIA? ;)
SHARE: