Podcast: Play in new window | Download (Duration: 52:41 — 24.1MB)
Our fashion challenge for this Dystopian themed F3 episode is Dystopian Subtle Cosplay inspired by Katniss Everdeen. She plays many different roles in her life as we follow her story, and brings a different style to each. Fashion definitely played a role when she was a tribute. We pick one of Katniss's styles, District 12, The Capital, Tribute, or Mockingjay, and made an inspired outfit on Polyvore!
Dystopian Subtle Cosplay: Katniss Everdeen Arena Outfit
Lindsey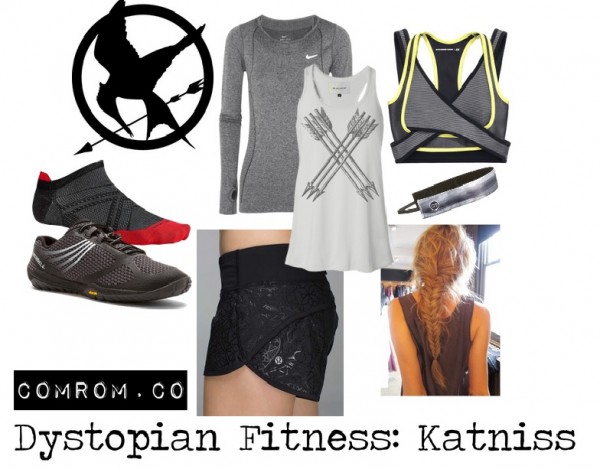 I wanted to add a twist to my outfit so I decided to create a Katniss-inspired fitness/running outfit. This was inspired by her very streamlined and futuristic tribute outfit while she was in the Quarter Quell.
First and most important, you need an awesome high impact sports bra. I will be honest, I chose this one because of its intense style. Basic shorts that allow for movement and moisture-wicking are a must.
Layering is important if you are braving the elements. I couldn't find a light weight jacket in a good neutral color, I didn't think Katniss would want a bright yellow or pink layer in the Games.
Drawing back to the Katniss theme I did choose a tank with an arrow graphic but stuck with a simple, neutral gray long sleeve layer. When braving the trails, PhD Smartwool socks are my go-to brand along with Merrell's Trail Glove running shoe. To finish off my look I chose a Sweatyband to keep sweat and hair out of my face and when I have long hair I honestly do like throwing it into a braid over a ponytail at times.
Dystopian Subtle Cosplay: Katniss Everdeen District 12 Hunting Outfit
Estee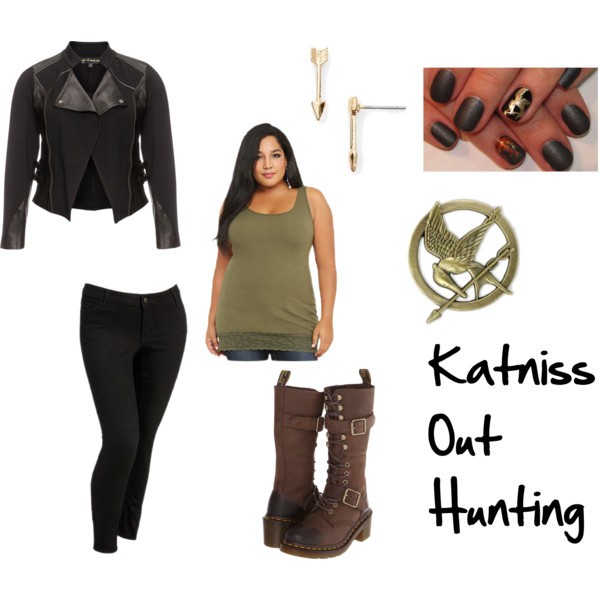 First and foremost I have to say that I LOVE the boots I found. They are Doc Martens and I would wear them regularly if I owned them. The jeans and tank top are pretty basic but they are made for comfort and I like that.
The jacket probably wouldn't work well while hunting, but it looks awesome and really reminds me of Katniss for some reason. I think the pin is is an obvious accessory and the earrings are a nod to her archery skills.
The manicure is an added touch that I don't think Katniss would really have, but it was too perfect to pass on adding to my set. :)
Dystopian Subtle Cosplay: Effie Trinket
Lydia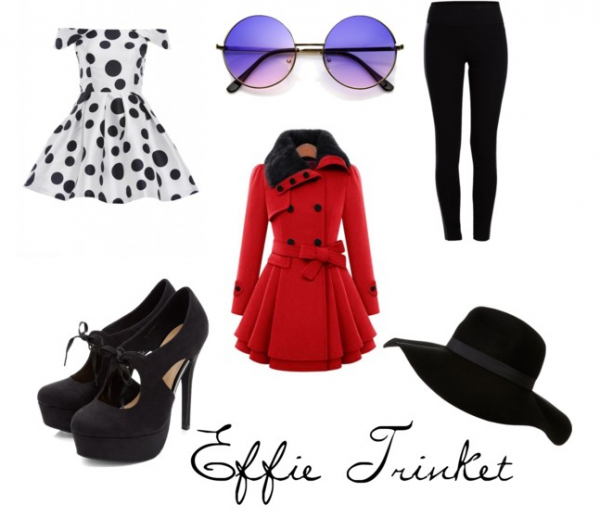 I wanted to step out of the box and with Effie it's pretty easy to. While most of this outfit isn't as "out there" as her other clothes, every bit of this makes me think of Effie Trinket. I really want this coat, too. I might not dress up all the time, but I'd definitely wear this, not even gonna lie about that. Though, I might fall in those heels!
Dystopian Subtle Cosplay: Tribute Parade Katniss Everdeen
Hadas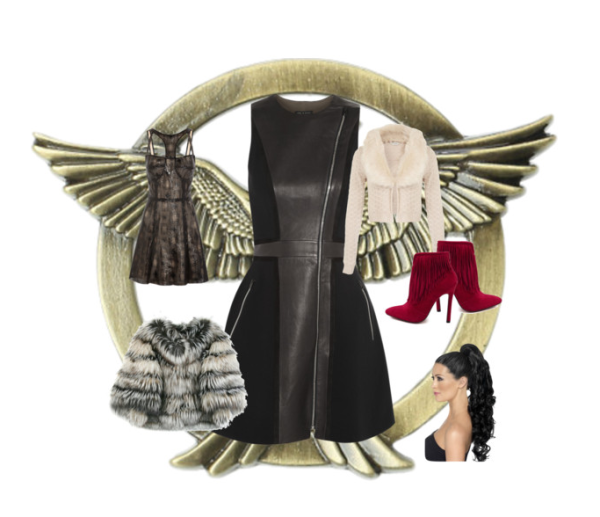 I love how fierce Katniss looked at the Catching Fire tribute parade. There is a company that actually sells licensed Hunger Games designs, but her dress is a bit too revealing for me and to cover up or layer under would ruin how beautiful it is. I included the image in my Polyvore set anyways because it's so pretty.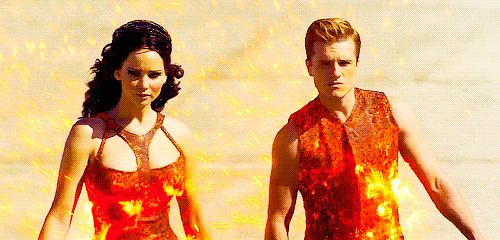 So I found a cool leather mixed media dress and thought I could pair it with something much softer- either that hilarious fox fur sweater coat being or the comfy cream cardigan. Hair would be a fun and funky high ponytail.
WHICH OF OUR LOOKS WOULD YOU WEAR?
SHARE: