Podcast: Play in new window | Download (Duration: 45:14 — 20.7MB)
For NonFicNov, Debbie suggested about 8* Netflix Documentaries to the team and the number one choice was Tig! What better way to see the real side of pop culture, food, fitness, and fashion than to go behind the scenes with documentaries?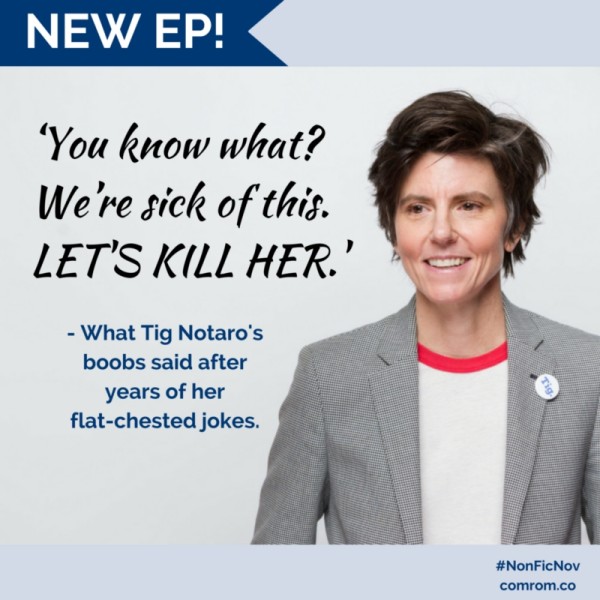 You may have heard of Tig Notaro because of her very personal and revolutionary stand up set just a few days after she was diagnosed with cancer. This Netflix special allows Tig, family, and friends to tell the story. Viewers also get to catch up with her after treatment and her burst into broader popularity.
For a comedian, her special is pretty well rounded and represents every genre. You see some very sad moments that you don't expect (even though you know a big chunk has to do with a cancer diagnosis). You see the development of a romance. You even see Tig's journey towards motherhood. It's heartwarming and funny and sad all at the same time.
Join us and guest Chris from the Let's Chat with Revill and Friends podcast! Find him on Facebook, Twitter, and his network's site!
Have you heard of Tig Notaro and her story?
Join the Conversation Below!
*Other winners were The True Cost and 20 Feet From Stardom which we watched and podcasted about too.
** The wonderful gif that is our featured image is from Giphy via a tumblr user.
—
On Common Room we don't have ads. We use affiliate links and sell merchandise from the art we commission on Redbubble. If you'd like to support us and our artists financially, click it up. :)
Subscribe via iTunes or your favorite podcast directory!
Follow Common Room with Bloglovin
We are now part of Wizard World's Con Radio podcast network. Listen to some of our friends!
SHARE: