It's time for a new Cloud Nine. So let's talk about Natural Ways to Stress Less.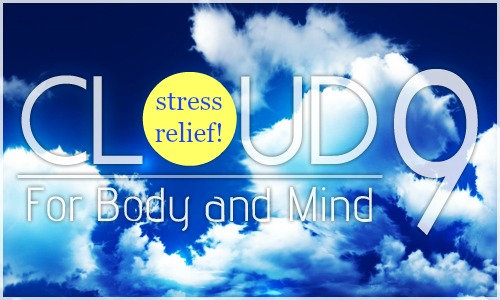 Stress is a normal everyday part of life, yet if you have too much of it it can have some negative effects on your health. Everything from a weak immune system to ulcers to high blood pressure can be related to having a stress level that is too high. So here are some tips to reduce your stress levels:
1. Meditate
I recently started doing this daily. It took a few days to get it right but since I have it helps me focus and relax well. I used an app recommended to me by my fellow Common Roomie, Lindsey, called Headspace. The first ten lessons are free and after that there is an option to subscribe which opens up more lessons that are more need specific. I personally just restart the original lessons. But that's just because I'm thrifty. If you prefer there are also tons of other resources to help you learn to meditate. In fact, YouTube has some great videos to help with guided meditation.

2. Exercise 
When you exercise it directs the endorphins your body releases while you're stressed to a more productive positive use. Any exercise will do really just get moving. You can go for a walk, head to the gym or even try one of the awesome workouts we have here on the site. No matter what you pick as long as you get your blood pumping you'll be burning off that stress in no time and getting fit while you do. It's a win-win!
3. Aromatherapy
Different scents are known to promote different feelings and memories. When you want to relax smells of lavender, rose, and eucalyptus (among others) are known to work well. But really any scent that brings to mind a relaxing time in your life can work for you. Once you find the scent that you enjoy and works best for you, you can use it in everything from room sprays and candles to body wash and hand sanitizer. My personal favorite it the eucalyptus and mint scent that Bath and Body Works sells. They even named it Stress Relief.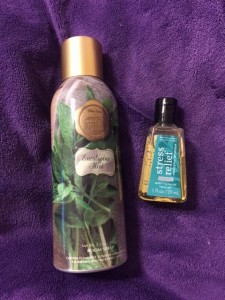 4. Music
Sounds can work just as well as smells when it comes to making you feel or remember certain things. When I'm feeling stressed I prefer upbeat fun music to help me get my mind of what is stressing me out and remember a time when I was more relaxed and having fun. This song by The Jellybricks is one of my favorites when I'm stressed or just not feeling myself. It's not so much the song's topic that helps me feel better (though there are a few lines that make me giggle) but the memories it offers. It reminds me of fun nights out with friends seeing the band play and hanging out with the band after the show. (FULL DISCLOSURE: I've been friends with the lead singer of this band for about 20 years. So the band's music always conjures great memories.)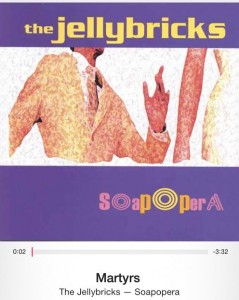 5. Tea
Last but certainly not least on my list is tea. Particularly herbal tea because it's generally caffeine free and since caffeine is a stimulant it's best to avoid when you are overly stressed. Teas containing chamomile, valerian, lemon balm, lavender, or peppermint alone or in any combination are known to have calming effects. Many tea brands actually sell blends specifically designed to help you relax and ease tension. I prefer peppermint tea myself but Celestial Seasonings offers an entire line of Sleepytime teas, as well as a line called Serene Moments and an herbal blend called Tension Tamer. I've tried several of these and they taste great and are a great way to wind down.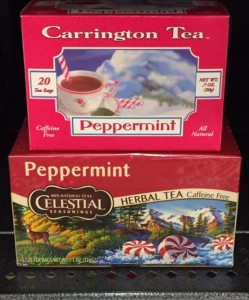 Want more ways to reduce stress? Check out 20 Natural Ways to De-Stress When Anxiety Attacks.
What Do YOU Like to Do to De-Stress?
DISCLAIMER: Common Room members are not doctors. Information and/or advice given here is for general use and NOT intended to replace medical care. Please consult your health care provider with all matters relating to your physical and mental well-being, particularly regarding symptoms that may require diagnosis or treatment. Results may vary.
SHARE: