This past December, I celebrated my 21st birthday. My friends thought it would be a great idea to make me one enormous gift in the form of plane tickets to New York City and a Weekend Pass for BroadwayCon. Needless to say, I cried a lot, and to this day, I still can't believe I went to the first ever convention for Broadway enthusiasts. I had dreamt of it but I knew I couldn't go and *poof* my amazing friends made it happen!
The first BroadwayCon, created by the dynamic duo behind Mischief Management and Anthony Rapp, happened at the Hilton Midtown Manhattan, on the 22nd to the 24th of January. I arrived two days before the start of the convention, and was lucky enough to see two Broadway shows –Fiddler on the Roof and Fun Home – and even meet Hadas* for the first time!
Here's my point of view of my experience at this unique and extraordinary event!
---
Day 1 – Good Morning BroadwayCon!
I woke up that morning feeling ecstatic. That was it, no more countdowns to look at, I was going to register for the first day of BroadwayCon!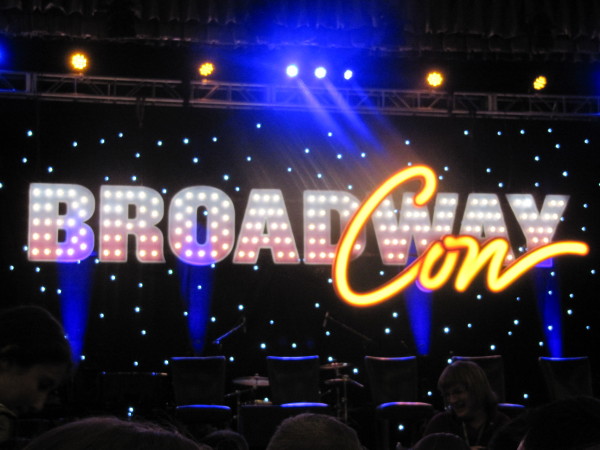 After retrieving my pass, I went to my first fan meetup, the "I Love Everything" meetup. It was amazing to be in a room where every time someone mentions the name of a performer, there were applause and cheers. It was basically an hour of saying what our favorite shows and performers were.
In case you were wondering, my picks were Merrily We Roll Along, In the Heights, and Spring Awakening, and for the performers Michael Cerveris, Jessie Mueller, and Rebecca Naomi Jones.
Right after that meetup, it was time for a little Hamilton fan meetup, which turned into an hour long singalong. Let me tell you that 200 people rapping a song at the same time, it's something!
The rest of the afternoon was a little more chaotic. Most of the programming and the most popular panels were in the main stage room. So naturally many people, including myself, started queueing quite early. Everything was all fun and games until chaos happened.
By chaos, I mean a sea of unorganised people trying by all means necessary to get to the front of the nonexistent line. There was no organisation regarding queues on day 1 and it's a big mistake when you have 3,000 people who all want to be the first to enter a room. I felt so bad for the staff members who had to scream instructions at the top of their lungs. Especially since they knew most people wouldn't listen.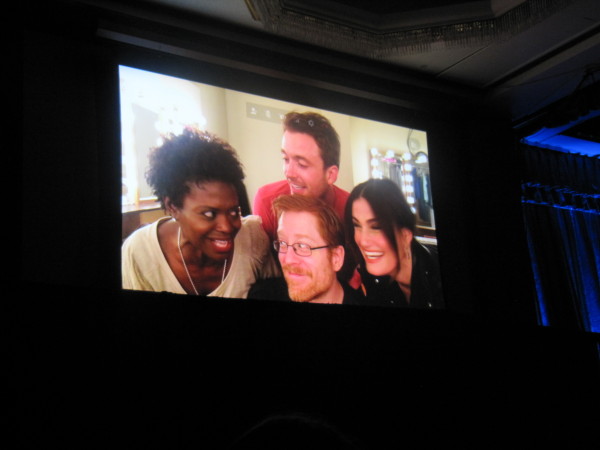 Once we finally got to enter the room, after 2+ hours of waiting, something rather unpleasant happened. Since my friend and I were at the beginning of the queue, we got rather good seats in the first few rows, until we were told 10 minutes later that we couldn't sit there. Let me insist on the fact that there weren't any signs or people saying we couldn't sit in this area when we arrived. That was a low blow on their part, to not clearly indicate the VIP area and move us at rather crappy seats right after.
Anywaaaay, the Opening Ceremony started and it was rather magical. They created a little musical full of guests and even included hilarious musical themed puns. Needless to say that my eardrums were pierced when Idina Menzel popped on the big screen, when they parodied The Room Where it Happened, or when Anthony Rapp joined the ensemble on stage. (And you guys, there were glitter cannons. Just Amazing).
Right after all the excitement provided by this amazing opening ceremony, everyone was waiting for THE panel, meaning the Hamilton Panel. I've been a fan of Lin since 2008, so I had a little bit of a moment. It was surreal to see them in the flesh. Every single performer in that cast is pure gold – also, I might be in love with Phillipa Soo, but that's nothing new really.
It did feel like it was rather short. But this feeling of frustration very quickly left me as the "I was a Teenage Diva" panel started. It was one of my favorite panels hands down. Basically, the audience was shown a video of a famous performer when they were kids or teenagers and we had to guess who it was. Then the performer would come and explain the moment, even recreate it. Ryann Redmond nailed her On My Own reenactment, it was hilarious!
I skipped the Rent panel because my need for food was stronger than my need to see the Original cast. What wouldn't we do for food right?
I came back to the main stage area a couple of hours later, and there was the Broadway Jukebox. We got to vote for a non-musical song for performers to sing. It became way too emotional for me when Lena Hall and Anthony Rapp started singing Bowie Songs, especially Space Oddity. I really miss Bowie…
For the last part of the evening, my friend and I witnessed one of the greatest things ever. A Musical Theater themed improv night. Don't Quit Your Night Job is an improv company and they are the awesomest people out there (check them out here). It was insane and hilarious! I mean they played singing rocks, hoverboards, and a very special version of School of Rock! I don't think I'll get over Anthony  Rapp Mad Libs-ing "Living in America" from Rent!
The little surprise when we got out of the Main Stage Area was to see that there was snow outside! Blizzard Jonas was on the way and I had no idea what to expect in the morning.
On to Day 2!
SHARE: