Tis the season! Lighting menorahs, setting up Christmas trees, cooking rich holiday food takes time and effort. Sometimes, you just want to serve a meal that's simple, doesn't require a mile long list of ingredients, and will please everyone. Basic burgers and fries hits the nail on the head. I've given the basic bun-burger-fries-lettuce combo a spin to make it family and company friendly!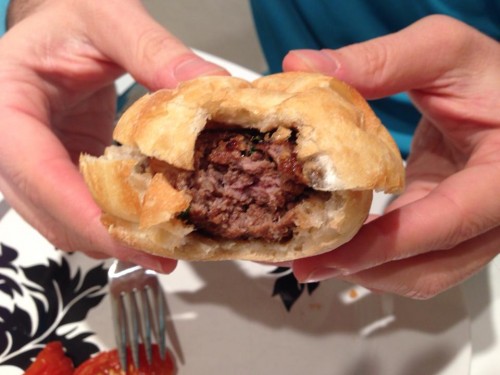 Burger Ingredients:
This is more of a technique rather than a step by step recipe, so the amounts can be adjusted easily. Lamb is nice in this recipe because it's a bit different and not as common- elevating the "burgers and fries" to a new level.
Ground lamb (1 pound yields 4 burgers)
Salt
Pepper
Minced shallot (1 small per pound of meat)
Pomegranate molasses (optional, 1tb)
1. Combine all the ingredients in a large bowl. Lightly mix and form parties. Use your thumb to make an indentation in each burger. This will prevent the burgers from puffing up during cooking.
2. Using an outdoor grill, indoor grill pan or cast iron skillet, cook your burgers. This takes about 4 minutes per side. Do not press the burgers with a spatula!!!!!
Polenta Fries:
Polenta is cornmeal, cooked in seasoned liquid. It can be made from scratch and served in a bowl, or allowed to "set" and be sliced and baked or fried. Trader Joes helps me out with this one- they sell polenta precooked and packaged in a tube. Any supermarket with an Italian section should have cooked polenta!
1. Cut polenta into French fry shapes
2. Season with salt, pepper, paprika
3. Spread the fries out onto a greased cookie sheet and bake at 425 till they're crispy- about 45 minutes.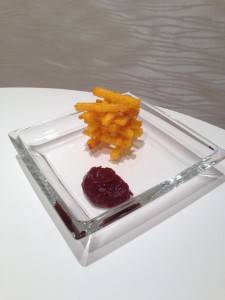 Vegan Caesar: 
6 cups of torn romaine lettuce
2 Persian cucumbers, cut into thin slices
Dressing:
3 tablespoons lemon juice
1 teaspoon Dijon mustard
2 tablespoons olive oil
2 tablespoons nutritional yeast
Salt & pepper to taste
Technique: 
Whisk all ingredients together in the bottom of a large salad bowl.
 Immediately before serving, add in greens and toss.
Can be garnished with croutons.
Tips: 
Nutritional yeast is a beige flaky powder. It's vegan, and a great source of B12. I buy it from the bulk section at Whole Foods. It had a vaguely cheesy flavor and works as a great substitute for Parmesan cheese.
Burger Toppings:
Caramelized Onions
Sliced Avocado
Tomato
Fried Egg
The customizing with this recipe is endless.
MOM: I like to use half a bun and make an open faced sandwich.
PICKY EATER: My daughter, who can't wrap her mouth around a sandwich, likes to spread out each component and eat them separately.
HUNGRY HUSBAND: My husband likes to pile everything on to his burger at once, pretending he's at some type of eating competition.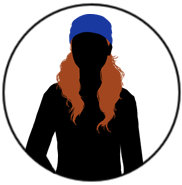 Melissa's Nutritional Tidbit: I love these changes to the quintessential burger and fries- change is good! Even though I am a dietitian, I'm still human too and love a good burger and fries combo. I try not to eat it too often, but I believe in eating everything in moderation.
For those of you unfamiliar with polenta, it's made from yellow cornmeal and its consistency can be modified to make a variety of things, including grits, cakes, and like our recipe states, fries! Polenta does have nutritional value, but no significant source of any specific nutrient. It it a carb, just like a potato, so consume in moderation.
You can definitely add more vegetables to the salad to mix things up a bit and increase your veggie intake. You can add vegetables like red peppers, tomatoes, or whatever produce your heart desires.
SHARE: