For many of us, animated movies are synonymous with fairy tales because that's what we grew up on. We thought it would be fun to vote on our favorite fairy tale songs from Disney movies, other movies, plays, and more.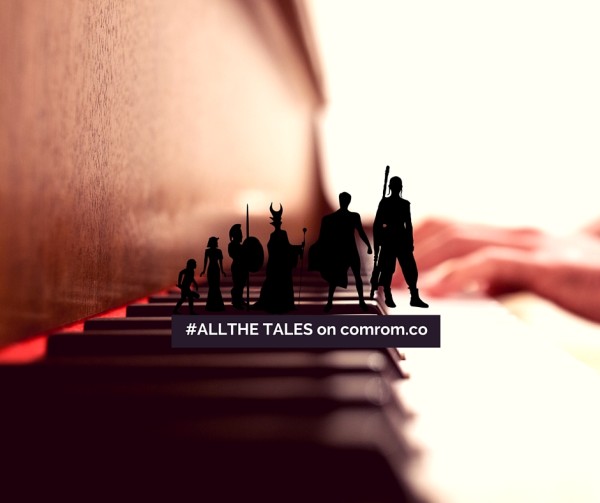 Poor Unfortunate Souls from The Little Mermaid
– I am so glad my all time favorite villain song won. Pro Tip: If you're ever really in need of de-stressing, sing this song at full volume and in character. It's so rewarding to sing "I'M A VERY BUSY WOMAN AND I HAVEN'T GOT ALL DAY!" when you're upset. Instant cool down.
Into the Woods from Into the Woods
– What a fun ensemble song. This is like the One Day More (Les Miserables) of fairy tales. I included both original cast recording and the film version in our playlist.
(Related: Our Food Fitness Fashion challenge based on Into the Woods.)

This is Halloween from The Nightmare Before Christmas
– Even as a person who hasn't seen this film, I know of this classic tune. Partly because of pop culture, but also because an ad for it played before other Disney movie VHS tapes I owned. :)
The Wizard and I from Wicked
– Oh, Elphaba. What a perfect song for the play. A red herring full of emotion and neediness. Trying not to spoil, just in case…
No Good Deed from Wicked
– Another passionate song like Poor Unfortunate Souls. Less passive aggressive and more full on aggressive. This is the "I had enough" song and it's also great to sing to when you've, well, had enough.
Prince Ali (reprise) from Aladdin
-based on the conversation we had, discussing the definition of fairy tale, this one might be debatable. A fun theory popped up recently about how Beauty and the Beast and Aladdin are connected. The theory is that Aladdin is mentioned during the song Belle*.
Well, it's my favorite!
Far off places, daring swordfights, magic spells, a prince in disguise!
and later
Oh, isn't this amazing?
It's my favorite part because — you'll see
Here's where she meets Prince Charming
But she won't discover that it's him 'til chapter three!
What do you think? Is this referencing Aladdin or a fun easter egg as to what will happen to Belle later in the story?
*Songs That Didn't Make the Cut:
Once Upon a December from Anastasia
– It received 5 votes, but Anastasia did not fit our description of a fairy tale (see our discussion here!). What a song though!

The next four were ones I recommended, so I'm going to take a minute to explain why they are my favorites!
Thank Goodness from Wicked


– This song describes a real truth about the world. You are not happy when all your dreams come true. Your dreams may not be what you actually need in life or attainable (Similar to your desires as we mentioned on a recent ep). And clearly, without spoiling, the singer of these lines knows that she is not as happy as she thinks she should be. Tough lessons here.
(Related: Our episode about The Golem and the Jinni. Coming soon!)
Belle from Beauty and the Beast

– Belle wants more. She uses her stories to escape a bit from life. Her reading makes people in her town find her weird, yet she's our heroine so we know she's amazing and weird in the best way. I love this song for the storytelling and the great bridge (?) where she describes the story she is reading.
Something There from Beauty and the Beast

– This scene was really cute in the movie and I love it when the main singers are the chorus and the hero and heroine make an appearance. Just like Can You Feel the Love Tonight.
(Related: Lindsey's Disney Princess Approved Full Body Workouts!)
Just Around the Riverbend from Pocahontas

– Again, didn't make it because of the definition. Pocahontas is such a strong character in the film. I remember loving how confident she was and finally how brown she was. I related to that as a kid. Her story was sad and hard even in the mofied Disney version.
Which Are Your Favorite "Fairy Tale" Songs?
SHARE: