Reading is one of my favorite ways to unwind. Below I share 10 books I feel are important to support a healthy BodySpiritBrain.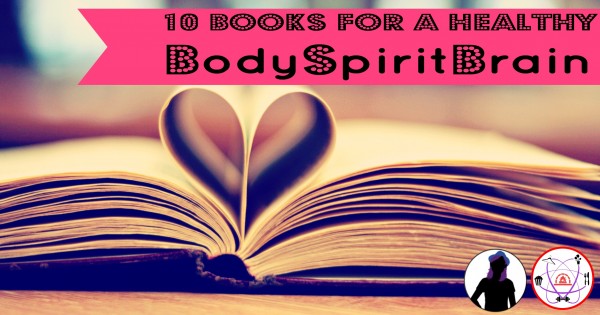 1. Eat and Run: My Unlikely Journey to Ultramarathon Greatness by Scott Jurek
Why This Book? 
* Scott Jurek is a super human, vegan, ultra runner. His story is truly inspiring.
* This book has some AMAZING healthy and vegan recipes. It doubles as a cookbook. Don't let the vegan label scare you. The idea is to fuel your body in a healthy way. You can always customize what he makes.
* Scott is built to be a runner: Mentally, spiritually, and physically. If you want great insight to how a professional runner functions this is a great resource.
2. Born to Run: A Hidden Tribe, Superathletes, and the Greatest Race the World Has Never Seen by Christopher McDougall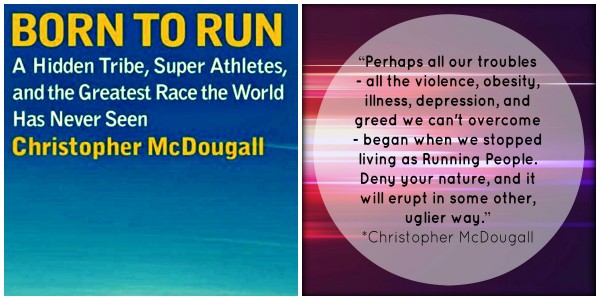 Why this book? 
* I think people often forget what their bodies are capable of achieving. This book reminds you of the simple fact that our bodies were born to run and anyone can do it.
* If you want to run this book will inspire you. If you already run this book will motivate you.
*Honestly, it is just a good book. It contains entertaining stories, interesting theories, and phenomenal historical information.
3. A Life Without Limits: A World Champion's Journey by Chrissie Wellington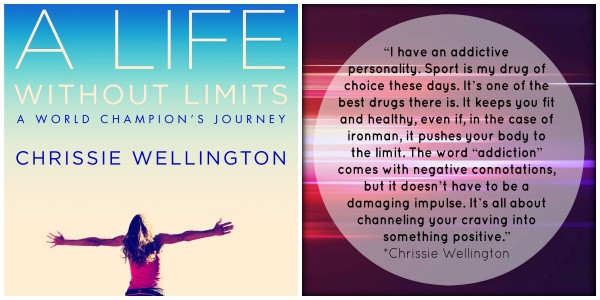 Why this book? 
* It was shocking how much I identified with Chrissie. There were countless times I had the thought, "Wow. I am not crazy, someone else thought, said, did this." She felt like my soul sister twin and I think many women (and men but mostly women) would feel the same way. It is comforting knowing you are not alone.
* Chrissie was an underdog, a no-name athlete who made a name for herself. If that doesn't inspire you I don't know what will.
* Much like Scott Jurek this book gives you great insight to what it takes to be an athlete, BodySpiritBrain.
4. Yoga Girl by Rachel Brathen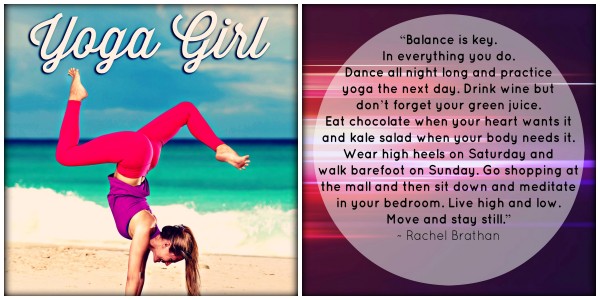 Why This Book? 
*This book is the BodySpiritBrain trifecta. The main focus being yoga, Rachel created some great sequences to help you correctly get started in your practice.
*Rachel shares some mouth-watering recipes. I already made her Vegan Chocolate Bliss Bars and I barely got any because my husband scarfed them down. Husband approved!
*Rachel hit rock bottom and built herself up creating an inspiring, positive, healthy life that she is more than willing to share with all of us. This is a very uplifting book that encourages you to maintain a healthy spirit.
5. The Last Lecture by Randy Pausch and Jeffrey Zaslow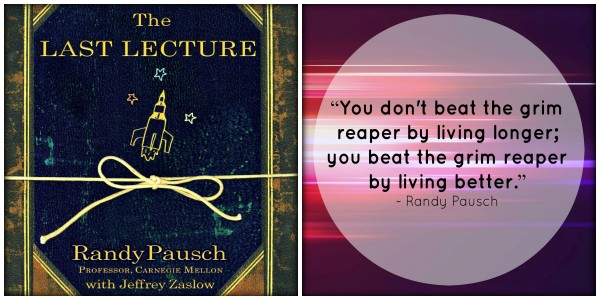 Why This Book? 
*If you are in need of some quick inspiration this is a very easy, speed read.
*Randy encourages you to reach for what truly makes you happy because the simple truth is we do not know how long we have to enjoy this wonderful roller-coaster we call life.
*You need to challenge yourself and force yourself to think critically sometimes. This book will do that for you. It will get your mind racing.
6. Illusions: The Adventures of a Reluctant Messiah by Richard Bach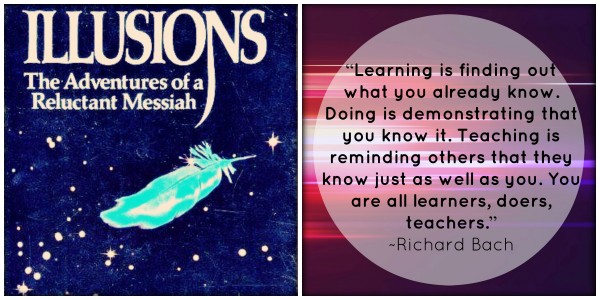 Why This Book? 
*My list of thought provoking, inspirational, philosophical books gets pretty long. This is a simple, short, enjoyable read.
*This tale teaches us to look deep within ourselves and find the strength and skills we didn't think we were capable of.
*If you are looking for inner peace this book is for you.
7. White Fluffy Clouds : Found Inspiration Moving Forward by Brandon Boyd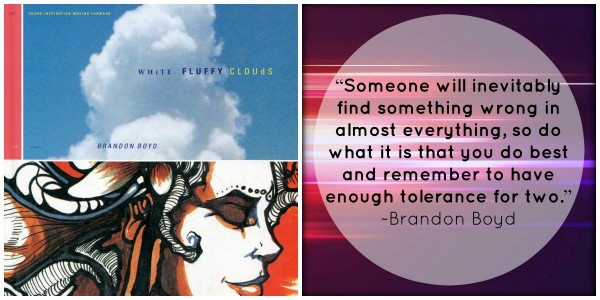 Why This Book? 
* Brandon Boyd = Incubus
* Art or simply expression is crucial for the soul and mind. Boyd has a unique and beautiful style. This is just one suggestion from my increasingly long list of adored artists.
* Immersed throughout this book are poems and lyrics to read and ponder over. I love art books, but that quality makes this book a little more special.
8. Harry Potter Series (Books 1-7) by J. K. Rowling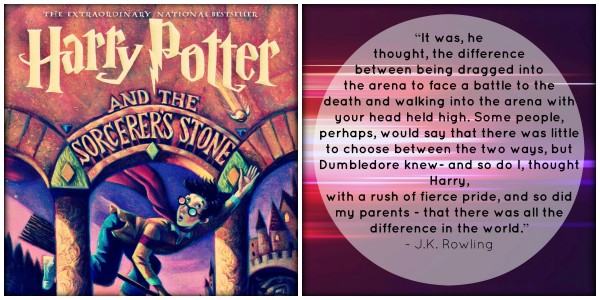 Why This Book? 
*J.K Rowling's Harry Potter books give us everything we could ever want in a fantasy series. It is so easy to get lost in my imagination when I read these books. This is an incredible place to get lost. Our imagination is an important tool that gets used to infrequently as adults.
*Harry Potter teaches compassion and empathy. Studies prove this.
*Honestly, this list could go on forever. Buzzfeed tells it like it is.
9. Yes Please by Amy Poehler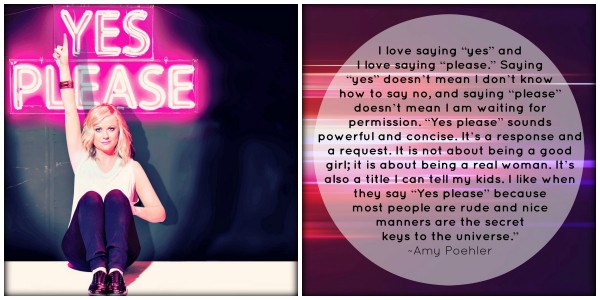 Why This Book? 
*Laughing is important. Laugh every day. Seriously. Amy Poehler most assuredly will help you achieve this goal.
*Amy is not afraid to share her life story with comedic relief and brutal honesty. It is refreshing.
*Amy's story is incredibly inspiring. Why not read an inspiring story and laugh at the same time?
10. Rich Food Poor Food: The Ultimate Grocery Purchasing System by Mira Calton and Jayson Calton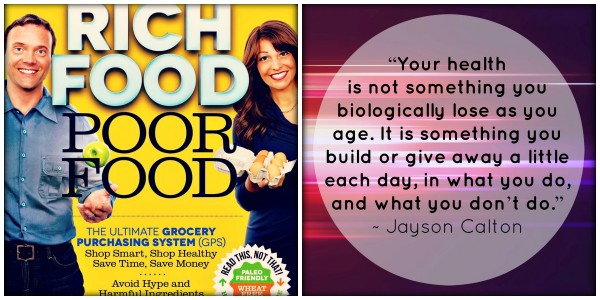 Why This Book? 
*Education is the single most IMPORTANT tool we have. As a consumer, it is our responsibility to inform ourselves on what is going into our bodies. Food is being genetically altered, produces are falsely advertised, it has become so hard to maintain a healthy diet. This book is meant to help. I do want to emphasize that this is a tool and this is not the sole source of research material you should depend on. This is still a product and needs to be taken with a grain of salt.
*Especially in its eReader format, Rich Food, Poor Food is easily accessible at the grocery store. The most beneficial skills it teaches is how to read nutritional facts.
*This resource is simple to use and broken up into parts. I use each chapter as needed. It does contain a plethora of information so I like using it as a reference as needed. 
What Books Do You Consider Essential For A Healthy BodySpiritBrain? 
SHARE: